Using the remote controls supplied with televisions and cable boxes can be challenging for people with disabilities, particularly if they have vision and motor control issues. The buttons on standard remotes are usually small, and the sheer number of options the remote presents can be daunting. In most cases a simple remote that controls basic functions is a much better option. Here are some of the best and easy to use TV remotes for disabled people.
TV Remotes for Disabled People: Factors to Consider
When shopping for a TV remote for someone who has disabilities, there are a few important factors to consider.
Size and visibility of buttons: The type of disability and the needs of the individual should be considered. In cases where motor control and/or cognitive issues are primary, a small number of large buttons is preferable. For the vision impaired, color-coded or illuminated buttons are desirable features.
Number of buttons and control options: In some cases only very basic functions like volume or channel changing may be required. Other remotes may offer more features for the user.
Ability to control multiple devices: It's unusual for a TV to operate as a stand-alone device these days. Often it needs to work in conjunction with a cable box or media streaming device. Be sure to check compatibility and be sure that the remote can operate numerous devices simultaneously.
The following devices represent a range of TV remotes that are suitable for many disabled persons.

1. Enabling Devices Wireless TV Remote
The Enabling Devices Model 1521 Wireless TV Remote is a clever combination of an easy to use control panel paired with a universal Sony remote control. This Sony remote is housed within the control and isn't accessed by the disabled person. Instead, they have a large controller suitable for placing on a table or tray with five 2-inch buttons that control basic functions (channel up/down, volume up/down, power on/off).
In addition, each of the five function buttons have input jacks that allow them to be operated with other external switches. The remote retails for $230.
Key Features
Very simple interface with large buttons
Easy to maintain and clean
Controls most common TVs and cable boxes
Allows control from other external switching devices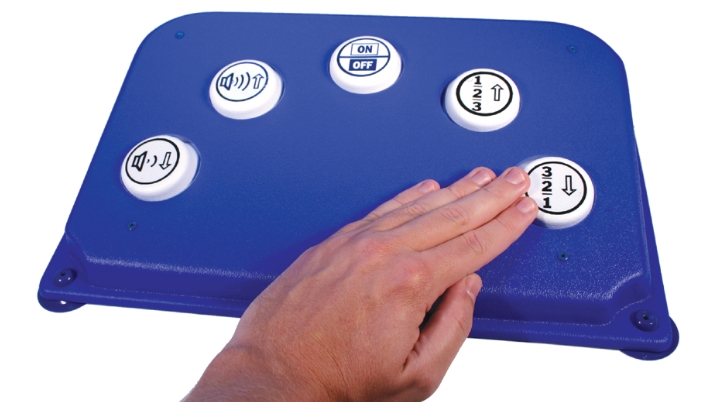 2. Flipper Big Button Universal Remote
Packaged in a nicely-sized handheld controller, the Flipper Big Button Universal Remote occupies a niche that's perfect for the disabled person who doesn't have significant motor control issues but needs a remote with a streamlined and easy-to-use interface.
The basic control layout is color-coded to distinguish channels and volume from each other, while a removable cover allows access to more sophisticated controls for setup and personalization.
One of our favorite features of the Flipper is "favorite channels." This allows up to 30 channels to be set up as favorites, so the user can quickly switch between their favorites without needing to skip multiple channels or manually enter channel numbers. The Flipper Big Button Universal Remote retails for $35.
Key Features:
Streamlined design with color-coded buttons
Compatible with most TVs and cable boxes
Favorite channel feature
Inexpensive price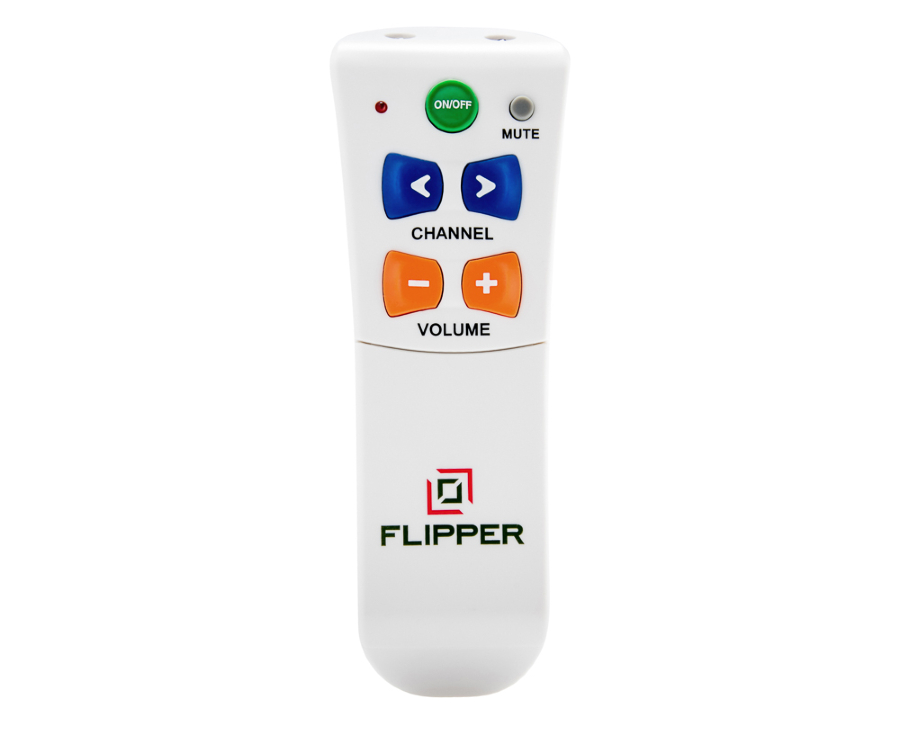 3. Tek Partner Remote
In some cases the disabled person may want a remote control with more functions, while still maintaining large buttons and an easy-to-grasp design. The Tek Partner Remote by Big Button Remotes offers large buttons and a uniquely shaped design that's easy to grasp.
This universal remote can be set up to control multiple devices, so it's a good choice when there may be multiple devices that need to be controlled. This remote retails for $38.
Key Features
Large, easy to hold design
Large buttons with illumination feedback
Controls multiple devices
Master "On/Off" button controls multiple devices
The Potential of Voice Control
The increasing prevalence of voice control assistants like Alexa provides another approach in television control. Several brands of televisions now include built-in voice controls or work in conjunction with voice control assistants. In a well-designed system, this could make control of the television as easy as speaking.
While the numerous voice control options available are beyond the scope of this article, this article provides an excellent overview of some of the possibilities available.
Key Features:
Hands-free control of the television and program selection
An increasing number of televisions are compatible with voice-control assistants
May require someone tech-savvy for initial setup and troubleshooting
Choose a remote for an independent lifestyle
Specially designed remote controls can be a useful tool in allowing disabled individuals to control their own entertainment needs. While it may not seem as immediately essential as providing for mobility, transportation and other services, having control of a TV can be important in maintaining a happy and independent lifestyle.