Using the remote controls supplied with televisions and cable boxes can be challenging for people with disabilities, particularly if they have vision and motor control issues. The buttons on standard remotes are usually small, and the sheer number of options the remote presents can be daunting. In most cases a simple remote that controls basic functions is a much better option. Here are some of the best and easy to use TV remotes for disabled people.

TV Remotes for Disabled People: Factors to Consider
When shopping for a TV remote for someone who has disabilities, there are a few important factors to consider.
Size and visibility of buttons: The type of disability and the needs of the individual should be considered. In cases where motor control and/or cognitive issues are primary, a small number of large buttons is preferable. For the vision impaired, color-coded or illuminated buttons are desirable features.
Number of buttons and control options: In some cases only very basic functions like volume or channel changing may be required. Other remotes may offer more features for the user.
Ability to control multiple devices: It's unusual for a TV to operate as a stand-alone device these days. Often it needs to work in conjunction with a cable box or media streaming device. Be sure to check compatibility and be sure that the remote can operate numerous devices simultaneously.
The following devices represent a range of TV remotes that are suitable for many disabled persons.
1. Enabling Devices Wireless TV Remote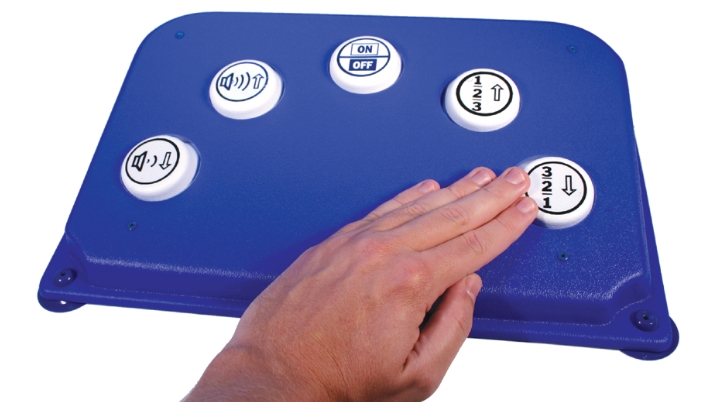 The Enabling Devices Model 1521 Wireless TV Remote is a clever combination of an easy to use control panel paired with a universal Sony remote control. This Sony remote is housed within the control and isn't accessed by the disabled person. Instead, they have a large controller suitable for placing on a table or tray with five 2-inch buttons that control basic functions (channel up/down, volume up/down, power on/off).
In addition, each of the five function buttons have input jacks that allow them to be operated with other external switches. The remote retails for $230.
Key Features
Very simple interface with large buttons
Easy to maintain and clean
Controls most common TVs and cable boxes
Allows control from other external switching devices
| | | | |
| --- | --- | --- | --- |
| Reviews | Dimensions | Weight | Batteries |
| n/a | 15.5" x 10.5" x 3" | 2.25 lbs. | 2 AA |
2. Flipper Big Button Universal Remote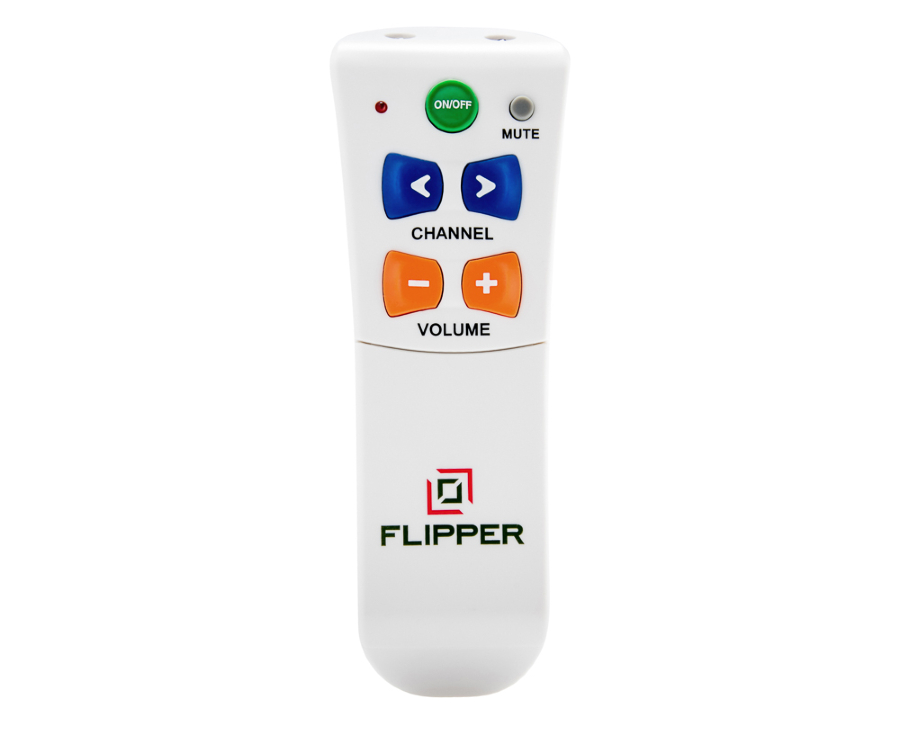 Packaged in a nicely-sized handheld controller, the Flipper Big Button Universal Remote occupies a niche that's perfect for the disabled person who doesn't have significant motor control issues but needs a remote with a streamlined and easy-to-use interface.
The basic control layout is color-coded to distinguish channels and volume from each other, while a removable cover allows access to more sophisticated controls for setup and personalization.
One of our favorite features of the Flipper is "favorite channels." This allows up to 30 channels to be set up as favorites, so the user can quickly switch between their favorites without needing to skip multiple channels or manually enter channel numbers. The Flipper Big Button Universal Remote retails for $35.
Key Features:
Streamlined design with color-coded buttons
Compatible with most TVs and cable boxes
Favorite channel feature
Inexpensive price
| | | | |
| --- | --- | --- | --- |
| Reviews | Dimensions | Weight | Batteries |
| 4.2 out of 5 on Amazon | 7" x 2.5" x 2" | 4.2 oz. | 2 AAA |
3. Tek Partner Remote
In some cases the disabled person may want a remote control with more functions, while still maintaining large buttons and an easy-to-grasp design. The Tek Partner Remote by Big Button Remotes offers large buttons and a uniquely shaped design that's easy to grasp.
This universal remote can be set up to control multiple devices, so it's a good choice when there may be multiple devices that need to be controlled. This remote retails for $38.
Key Features
Large, easy to hold design
Large buttons with illumination feedback
Controls multiple devices
Master "On/Off" button controls multiple devices
| | | | |
| --- | --- | --- | --- |
| Reviews | Dimensions | Weight | Batteries |
| 3.5 out of 5 on Amazon | 5.5" x 8.5" x 2.5" | 3.2 oz. | 4 AA |
4. EasyMote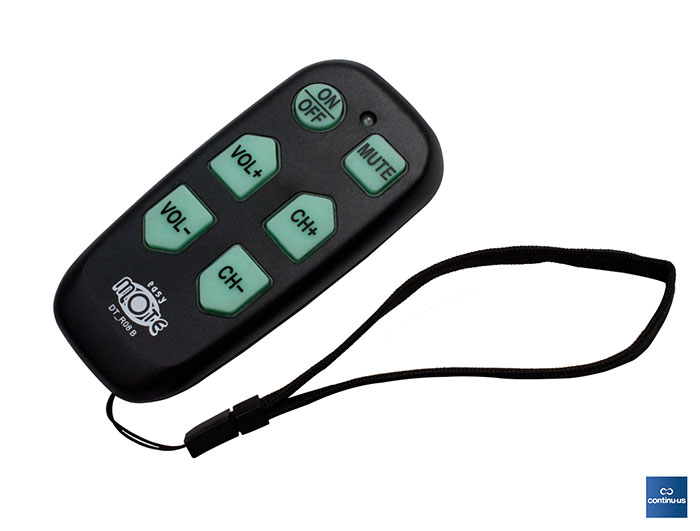 Self-billed as the easiest remote ever, EasyMote has oversized, backlit buttons that might be ideal for individuals who struggle with dexterity or fine motor control. It's designed to fit in the hand and includes a wrist strap to prevent misplacement. The remote's simplicity also makes it a good choice for those with cognitive disabilities: it features just six buttons coupled with lockable content to prevent accidental reprogramming.
Programming is easy, too. This universal big button TV remote uses "Quick Search" to scan for TV and cable box codes (it operates both devices). Setup requires only three steps, and the "Learning Mode" lets you program custom commands for each button. If you're seeking an easy-to-use remote control, EasyMote is an affordable option at $15.95.
Key features:
6 large, bright, backlit buttons for basic TV control
Controls both TV and cable boxes
Simple programming with "Quick Search"
Custom button programming
Lock buttons to prevent accidental reprogramming
Wrist strap included
| | | | |
| --- | --- | --- | --- |
| Reviews | Dimensions | Weight | Batteries |
| 4.3 out of 5 on Amazon | 5" x 2.2" x 0.9" | 2.24 oz. | 2 AAA |
5. SMPL TV Remote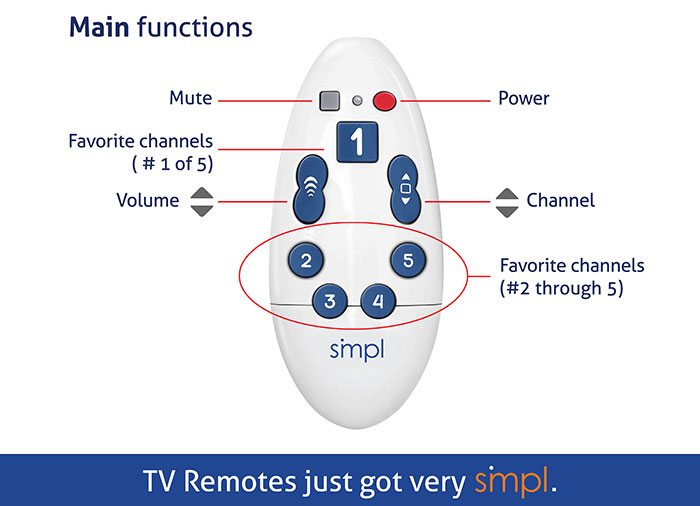 The SMPL TV Remote makes it easy to flip between your favorite channels with five preset buttons. The remaining four buttons control basic functions such as volume up/down, channel up/down, mute and power. Shaped to fit the hand, the SIMPL TV remote controls most televisions, cable boxes and satellite boxes that use standard IR technology. It's also compatible with DTV (Digital TV) converter boxes.
Programming buttons are hidden under a screw-locked cover to prevent accidental reprogramming. The SIMPL TV remote's intuitive layout makes it a good option for people with visual disabilities. It also promotes independence for those with cognitive disabilities, Alzhemer's and others who want a simple, uncomplicated way to flip through their favorite shows. You can pick one up for around $50.
Key features:
5 favorite channel buttons
Combination channel up/down button
Combination volume up/down button
Mute & power buttons
Hidden programming buttons to prevent accidental reprogramming
Compatible with most TVs, cable boxes, satellite services & DTV converter boxes
| | | | |
| --- | --- | --- | --- |
| Reviews | Dimensions | Weight | Batteries |
| 5 out of 5 on Alzheimer's Store | 5-1/2″ x 2-1/2″ x 1-1/4″ | n/a | 3 AAA |
6. GE Big Button Universal Remote Control
The GE Big Button Universal Remote Control is a full-featured remote control complete with the same functions you'd find on a standard remote including device select, input, sleep and setup buttons as well as a numbered keypad. Its oversized buttons – especially the extra-large channel and volume buttons – and ergonomic design make it a good option for those with minor motor disabilities, but it might appeal less to those who seek a simple device and wish to avoid accidental reprogramming.
The remote is available in multiple variations based on the number of devices you need it to control: two, four or six. Some versions have backlit keys. The GE Big Button Universal Remote can operate TVs, Blu-Ray and DVD players, cable and satellite receivers, sound bars and Roku, Apple TV and other streaming devices. It works with major brands like LG, Sony, Vizio and Panasonic; and features a comprehensive code library plus auto scanning – all for around $10.
Key features:
Oversized buttons
Full numbered keypad
Compatible with many major brands
Controls multiple devices
Ergonomic design
| | | | |
| --- | --- | --- | --- |
| Reviews | Dimensions | Weight | Batteries |
| 4.1 out of 5 on Amazon | 1" x 2" x 5.8" | 2.4 oz. | 2 AA |
7. TV Remote Module
The Enabling Devices TV Remote Model is made for individuals with impaired fine motor coordination. It features a platform-mounted standard Sony remote that's controlled by adaptive switches. Sold separately, the switches allow for customized configurations that cater to user comfort. Options include joystick switches, head switches, light-up switches, finger switches, vibrating switches and many more.
Coupled with switches, the TV Remote Module enables the user to control the power, volume and channel functions. Thus, it offers a custom – yet simple – solution that facilitates TV viewing for individuals with a wide range of disabilities. The TV Remote Modele costs around $145, and switches range from around $35 for simple touch switches up to around $290 for advanced head-controlled switches.
Key features:
Customized controls powered by a variety of switch options (sold separately)
Controls power, volume and channel functions
Uses a programmable Sony remote mounted to a stationary platform
Works with most major brands of televisions, cable boxes and digital satellite receivers
| | | | |
| --- | --- | --- | --- |
| Reviews | Dimensions | Weight | Batteries |
| n/a | 10″ x 4″ x 2.5″ | 8 oz. | 2 AA |
8. Simplicity Universal Cable and TV Remote Control
Designed for people with dexterity issues, this remote features unique molded side grips that make it easier to grasp. The Simplicity Universal Cable and TV Remote Control is an option for those with vision issues, too, with its large backlit buttons and convenient wrist strap that prevents drops and keeps the remote at hand.
The Simplicity Universal Cable and TV Remote offers two programming options: point and press auto scan and manual code entry. It will remember its programming, even after battery changes, and is compatible with most TV, cable and satellite box brands. This remote can be programmed for full functionality or to limit users to using basic functions such as channel select and volume control. It also has a timeout feature that shuts the remote down if the same button is depressed for 45 consecutive seconds. The Simplicity Universal remote can be purchased for around $25.
Key features:
Easy grip sides
Big backlit buttons
Point and press autoscan programming
Compatible with most major brands
Limited functionality modes (optional use)
Wrist strap
Timeout mode prevents drained batteries
| | | | |
| --- | --- | --- | --- |
| Reviews | Dimensions | Weight | Batteries |
| n/a | 7.7″ x 3.8″ x 1.46″ | 7.3 oz. | 2 AA |
9. EasyClean PC100 Remote Control
Cleaning is a breeze with the water resistant, dishwasher-safe EasyClean PC100 Remote Control and its flat easy wipe surface. Designed to be the easiest TV remote to program, the EasyClean caters to the visually impaired with large, color-coded buttons and bold, oversized text. An indicator light flashes when buttons are depressed so users know the remote is active, and a flat base allows the remote to stand on end to prevent misplacement.
The EasyClean remote works with all major TV and cable box brands that use IR (infrared) technology. Programming is fast and simple with "learning mode," which allows the device to learn codes from standard remotes. It also has a lockable battery cover to prevent battery removal. The price is right for most budgets, too, at around $15 to $20.
Key features:
Water resistant
Dishwasher safe
Flat, nonporous surface for easy cleaning with antibacterial wipes
Stand-up base for easy location
Large, color-coded buttons and oversized text
Indicator light
Lockable battery cover
| | | | |
| --- | --- | --- | --- |
| Reviews | Dimensions | Weight | Batteries |
| 4 out of 5 on Amazon | 6.9" x 2.4" x 1.4" | 3.2 oz. | 2 AAA |
10. Logitech Harmony Express (Voice Activated TV Remote)
The Logitech Harmony Express TV remote comes with Amazon Alexa built in, granting users the ability to control their televisions by voice. The handheld device eschews traditional numbers in favor of a single large button: just press it and start talking to command the TV.
The palm-sized Harmony Express can control other electronics, too, including Blu-Ray players, smart home, WiFi and Bluetooth devices – up to 15 in all. It has a built-in microphone so users don't need to shout across the room to control their TVs (or over their speakers to change the channel) and comes with a "blaster" unit that connects to TVs and provides an intuitive visual interface for device control. Voice shortcuts eliminate the need for multiple inputs and make it easy for users to quickly access favorite channels and services such as Netflix. The accompanying remote finder app makes lost remotes a thing of the past.
Though the Harmony Express isn't the simplest remote on our list, it's perhaps the most capable. It's a good option for those who want a voice activated remote that meshes well with modern technology. Advanced features come with a price, though, as the Harmony Express sells for around $170.
Key features:
Voice activated TV remote
Universal remote replaces 15 devices
Compatible with more than 270,000 different devices
Visual interface
Blaster and IR mini-blaster offer intuitive visual interface & control devices inside cabinets
Built-in microphone
Amazon Alexa built-in (no need to buy a separate device, though WiFi is required)
Rechargeable battery
Remote finder app
Palm-sized
| | | | |
| --- | --- | --- | --- |
| Reviews | Dimensions | Weight | Batteries |
| 3 out of 5 on Amazon | 5.2" x 1.8" x 0.5" | 2.08 oz. | Rechargeable |
NOTE FOR COMCAST/XFINITY CUSTOMERS
Comcast will provide a large button remote free of charge for customers who are elderly or have disabilities. The company also offers the Xfinity X1, a web-based eye control remote that works with tablets and computers, for free. The Xfinity X1 can be paired with existing eye gaze devices and software, switches and other assistive technology. Learn more about Comcast's large button remote and Xfinity X1.
The Potential of Voice Control
The increasing prevalence of voice control assistants like Alexa provides another approach in television control. Several brands of televisions now include built-in voice controls or work in conjunction with voice control assistants. In a well-designed system, this could make control of the television as easy as speaking.
While the numerous voice control options available are beyond the scope of this article, this article provides an excellent overview of some of the possibilities available.
Key Features:
Hands-free control of the television and program selection
An increasing number of televisions are compatible with voice-control assistants
May require someone tech-savvy for initial setup and troubleshooting
Choose a remote for an independent lifestyle
Specially designed remote controls can be a useful tool in allowing disabled individuals to control their own entertainment needs. While it may not seem as immediately essential as providing for mobility, transportation and other services, having control of a TV can be important in maintaining a happy and independent lifestyle.