Where To Buy Adaptive Shoes For People With Disabilities
No longer relegated to hard-to-find specialty catalogs, today's adaptive shoes combine form and function for fashionable footwear that caters to a wide range of people with disabilities.
Mainstream companies like Nike offer stylish comfort, while specialists like Friendly Shoes and BILLY Footwear continue to release beautiful shoes that are easy for anyone to wear.
The following lists eleven places you can buy adaptive footwear today, followed by a comprehensive overview of everything you need to know to find the perfect pair of adaptive shoes for yourself or your loved ones.
Looking for more adaptive clothing?
Places to Buy Adaptive Shoes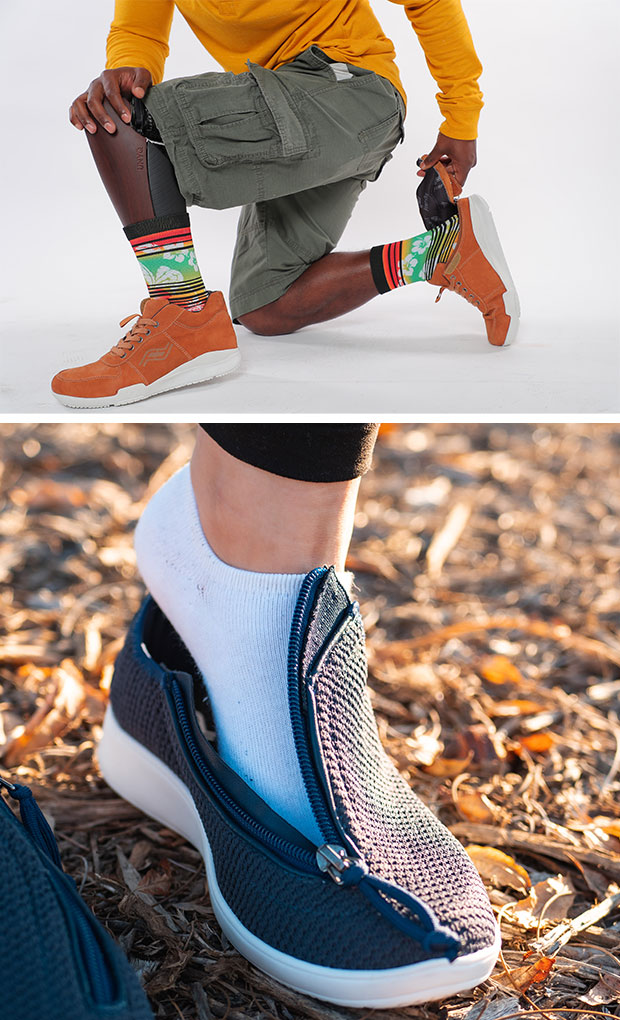 Friendly Shoes solves many types of footwear challenges with advanced technology for comfortable, stylish shoes that are easy to put on and wear. Their motto is simple yet powerful: "Better footwear for your needs: Experience fashion, comfort, and support with ease."
Solve many types of footwear challenges.
Adaptive and elderly friendly.
These fashionable shoes come from a collaboration between medical professionals and master shoe designers.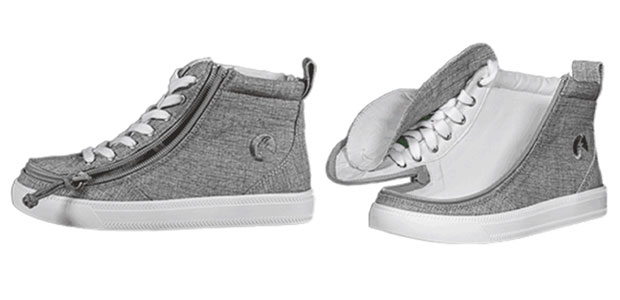 Co-Founder Billy Price became paralyzed from the chest down after a three-story fall in college. A considerable source of difficulty for Billy was finding shoes to put on independently while maintaining their function and style. Hence, BILLY Footwear was born.
Fashion meeting function and inclusion for all.
Options for men, women, children, and toddlers.
Utilizes zipper technology for ease-of-use.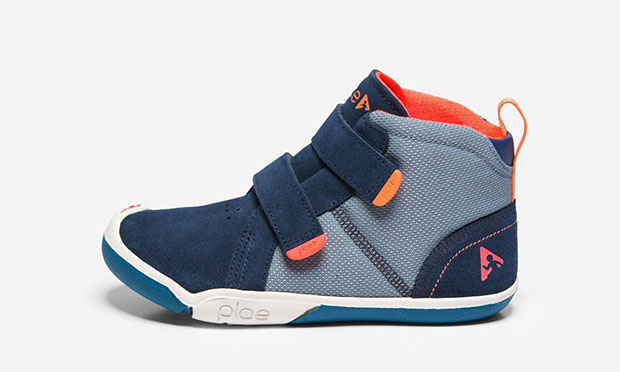 Plae prides itself on its next-level innovation behind its shoe lineup. This begins with a patented way to "tie" shoes. With the expansion of customizable insole technology, there is far more to these shoes than the company's incredible fashion sense. Plae's patented STAELACE™ closure system enables the wearer to put these particular shoes on using only one hand and do so in a solitary, simple motion.
Plae puts the "fun" in functional.
Fits comfortably with orthotic braces.
High-quality materials.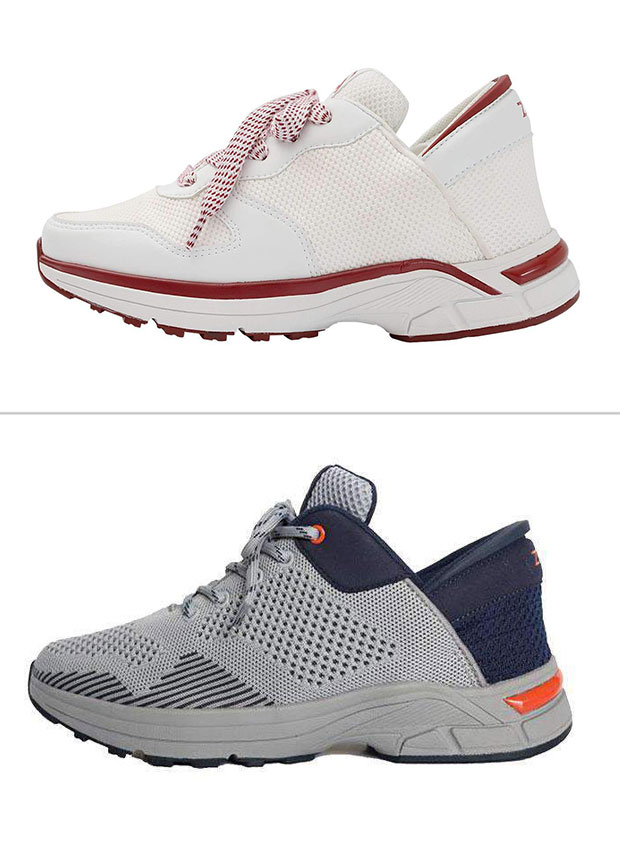 Zeba brings imaginative hands-free shoes to the adaptive footwear game, and they do so with style. The company utilizes their patent-pending "collapsible shoe heel" technology which permits wearers to put on their shoes with minimal effort. Zeba strives to see their technology used in every piece of footwear in the future, and they are currently collaborating to formulate other types of footwear such as dress shoes and sandals.
Utilizes hands-free technology
Patent-pending "collapsible shoe heel" technology.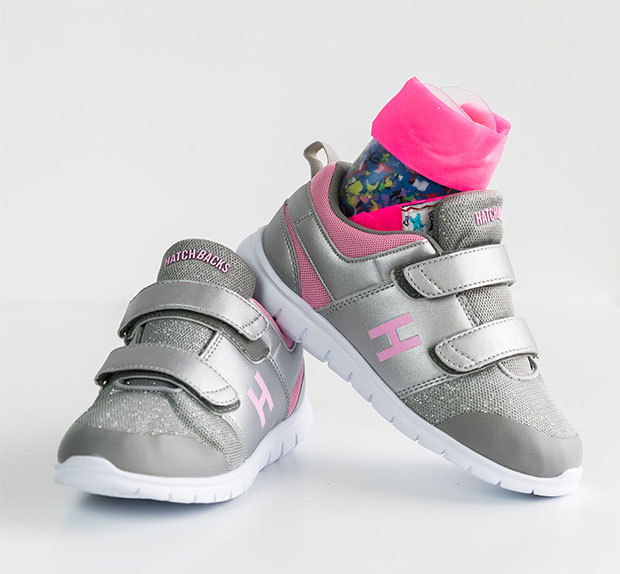 Hatchbacks was born out of the frustration one parent found in trying to get shoes on their toddler. The company deigned and patented a hinged shoe that opens from the back to make it much more manageable to get on a child. Along the way, however, these shoes were discovered by some parents of children who used AFO braces, and in response, Hatchbacks created an entirely new line of shoes known as the "Elites." The shoes employ the same "Easy Fit" system as the originals and add extra width at the toe and more girth around the ankle.
Easily accomodates AFO or SMO braces.
Unique "Easy Fit" system.
Features the line of shoes known as "Elites."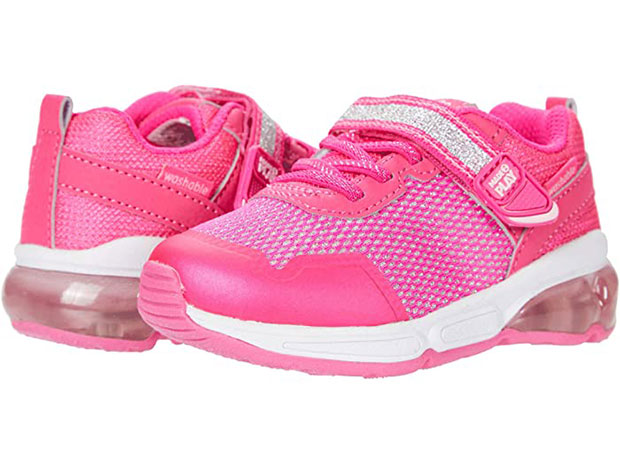 Zappos is one of the largest online shoe retailers and possesses a wide array of adaptive footwear. Additionally, Zappos offers a Single and Different Size Shoe Program that allows people far more flexibility when meeting their needs. From easy-on shoes to orthotic friendly footwear, Zappos has it covered.
One of the largest online shoe retailers offering adaptive footwear options.
Function meets fashion!
Singles and Different Size Shoe Program.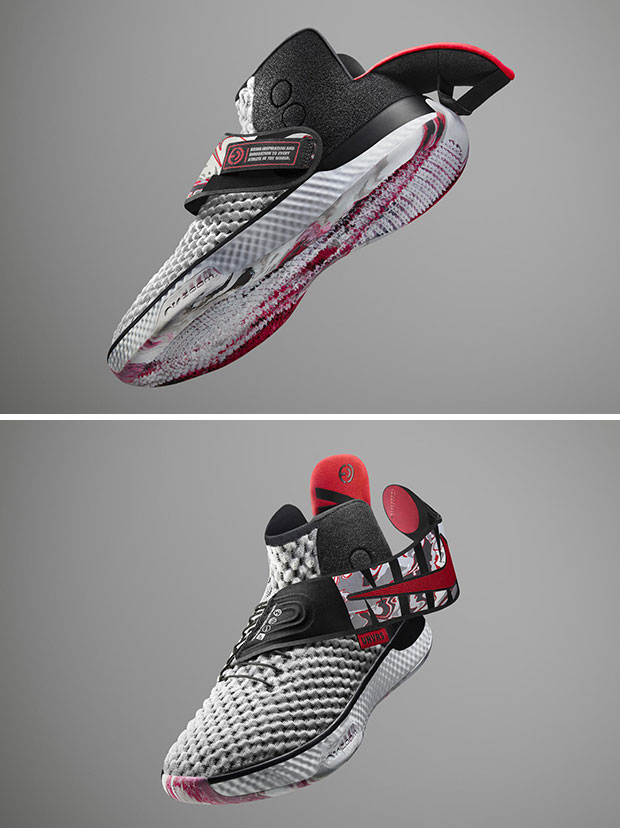 Nike developed their Flyease technology in response to a young man with cerebral palsy who inquired about acquiring stylish basketball shoes that he could easily put on himself. Flyease initially launched their shoes utilizing a zipper system and later added a completely hands-free edition.
Completely hands-free options.
Step In, Zip Up, Strap In, or Pull Tight options in the famous Nike style.
The story of Silverts dates back to the 1930s. However, in 1981 Silverts started specializing in easy-to-wear apparel. Fast forward to the modern-day, and Silverts is one of the prominent trailblazers in adaptive wear, including adaptive shoes.
A prominent innovator in adaptive apparel and footwear.
Options for men and women covering a wide range of specific needs.
Buck & Buck comes with over forty years of serving special needs customers, and the company takes pride in its quality materials and workmanship. In the quest to fulfill any sort of adaptive footwear needs in regards to both men and women, Buck & Buck offers a variety of styles, comfort levels, and ease-of-use.
Quality materials and worksmanship.
Free name labeling.
Money back guarantee.
Steve Madden shoes are globally renowned for their innovation in fashion and style. Now, children with disabilities or special needs can fulfill their personal needs while simultaneously keeping up with the latest trends. Steve Madden's line of adaptive shoes for kids is ready and able to put all children on the same playing field.
Renowned innovation in fashion, function, and syle.
Helps kids feel secure and confident.
Surestep offers products that kids affectionately refer to as "racers," "rocket shoes," or "super-fast feet." The company goes above and beyond to provide vitality and autonomy to children who struggle to walk with assurance. A fun fact about Surestep: their patented SMO system revolutionized orthotic management for children with pronation or hypotonia (low muscle tone).
Each product is custom made for the child's needs.
Helps the child build strength, stability, and confidence.
Revolutionary SMO system for orthotic management.
Who Uses Adaptive Shoes And Why Are These Shoes Beneficial?
Until recently, there existed a considerable gap in the type of footwear that offered stylish options while still considering the needs of people with disabilities. This type of adaptive footwear also proves beneficial in other ways, such as assisting high fall risk seniors or people who are recovering post-surgery. Adaptive footwear demonstrates its value by enabling individuals to feel more self-sufficient while maintaining their expression and style.
How People With Disabilities Benefit From Adaptive Footwear
Here, we will look at various conditions and understand how utilizing adaptive footwear can dramatically increase the quality of life for people with disabilities while maintaining dignity and personal expression.
Amyotrophic Lateral Sclerosis (ALS)
Amyotrophic Lateral Sclerosis (ALS), sometimes more commonly known as Lou Gehrig's Disease, is an ailment that gradually concludes in paralysis because the brain can no longer transmit messages to the muscles in the body. Hands-free shoes for this condition are beneficial because the wearer is not required to bend over or make complex motions to get the shoes on properly.
Muscular Dystrophy
Similarly, Muscular Dystrophy is a genetic brain disease that presents itself in various forms by weakening muscles through the disruption of producing crucial muscle-building proteins. Shoes that do not require hands are also beneficial to those with MD. Additionally, simple closures like velcro shoes or zipper shoes would be optimal over the more complicated and traditional style laces.
Cerebral Palsy
Cerebral Palsy is a group of disorders that centers in the brain and affects the muscles by inhibiting movement and mobility. This can make posture, balance, and motor function problematic. Utilizing adaptive shoes with zippers or any shoes without laces will make life much easier on the wearer with cerebral palsy.
Parkinson's Disease
Parkinson's disease is a neurodegenerative disorder primarily affecting movement and typically results in muscle stiffness and tremors. As with many of the various conditions that affect the body's muscle groups, shoes that do not require hands or that feature simple closures are optimal for improving safety and reducing risk while getting on shoes.
Hypotonia & Hypertonia | AFO & SMO Braces
Hypertonia and Hypotonia are both conditions that abnormally affect muscle tone. Hypertonia causes an overabundance of muscle tone leading to stiffness and lack of flexibility. Hypotonia is the exact opposite, therefore posing a frequent fall risk and difficulty standing up due to a deprivation of muscle tone. Typically, people with these conditions would utilize AFO compatible shoes paired with AFO or SMO braces.
An AFO brace is a plastic splint that stabilizes the ankle and foot and keeps everything in its optimal alignment. The three primary types of AFO Braces are solid ankle-foot orthosis, hinged ankle-foot orthosis, and dynamic ankle-foot orthosis. These braces generally help with conditions like cerebral palsy, Muscular Dystrophy, and Multiple Sclerosis. While targeting the same sort of assistance, an SMO brace is smaller in size than the AFO and supports the foot precisely above the ankle.
Procuring stylish shoes for AFO braces that collaborate well with each other can be tricky, and there are a few key components to consider when pairing them up. Consider buying shoes one size larger than usual. A little supplementary space will help establish a good fit inside the shoe; however, too much space may counteract the ability to maintain balance. Shoes for SMO braces essentially mimic the exact needs of their AFO counterparts in regards to locking down suitable shoes for kids with braces.
Users may encounter cases of needing different-sized shoes. There is also a growing popularity in the sale of single shoes, which may be particularly helpful in the case of matching up these braces with a corresponding shoe. Ultimately, experimenting on a case-by-case basis to obtain the proper fit is recommended.
Additionally, a shoe with a firm heel and a removable inner sole can be essential, so it is best not to skimp on the material quality. To maintain proper tension on the feet, footwear that features flexibility and adjustability will significantly improve the condition of the feet throughout the day.
How Do Adaptive Shoes Assist with These Conditions?
The commonality in all these conditions above is their debilitating impact on the body's muscle groups, thus rendering routine daily tasks more complex. These routines include, but are not limited to, personal hygiene, getting dressed, and putting on shoes.
This is where the benefits of adaptive footwear come into play. Rather than risking severe injury attempting the daunting task of independently getting on traditional style shoes and tying the laces, people with disabilities can now take advantage of the risk-resistant and innovative techniques brought about by adaptive footwear.
What Are Some Other Conditions That Benefit From Adaptive Shoes?
Rheumatoid Arthritis
Rheumatoid Arthritis is an inflammatory condition that results in severe joint pain, and it is not uncommon for it to first exhibit symptoms in the feet. However, it also presents in the hands, making tying laces problematic. Acquiring shoes for rheumatoid arthritis with simple closures like zippers can significantly reduce the difficulties of getting on shoes.
Ankle Pronation
Ankle Pronation, perhaps more commonly known as "flat feet," is essentially movement that elicits an abundance of compression and results in losing the foot's arch. A person with overpronated feet will typically experience an outward veering of their foot and an inner rotation of their lower leg. Locating a shoe that regulates motion and sustains stability is fundamental in deterring chronic pain while walking or developing further injury such as shin splints.
Pigeon Toes ("In-toeing")
Pigeon Toes or "in-toeing" primarily affects children or infants and causes their feet to point inward rather than straight ahead. If a child exhibits the signs of being pigeon-toed, it does not necessarily mean that anything is wrong. However, acquiring a pair of shoes that has good arch support and a rigid heel counter can begin to rectify the condition.
Wheelchair Users
Wheelchair users face their own unique set of challenges when hunting for a suitable pair of shoes. These necessities are not all-encompassing but can include the ease of putting on the shoes independently, having room for any foot swelling throughout the day, and ensuring security during transfers from the wheelchair to another accommodation such as the toilet. Plus, the combination of style and function is essential too.
Adaptive Footwear For Seniors
Seniors have special needs in regards to footwear as well. Their daily routines and quality of life are impacted by the ease and safety in which these fundamental routines can be carried out. Putting on shoes is a luxury that many people conceivably take for granted. However, for others, such as seniors, it is a considerable hurdle to get over to start each day.
In addition to withstanding the body's natural breakdown with age, seniors with medical conditions such as Alzheimer's Disease or Dementia have additional battles to endure. Acquiring easy-on shoes like slip-on shoes or zip-up shoes can at least tame some of these daily complications and generate a considerably clear difference in their day-to-day lives.
Adaptive Footwear For People Post-Surgery
For some folks, following the doctor's orders post-surgery requires limited bending and the provision of a restricted range of motion which can make getting on shoes arduous. This is especially true when dealing with traditional style footwear. Adaptive shoes can help preserve independence for people recovering from surgery.
What Makes Shoes Adaptive?
There are distinctive characteristics in adaptive apparel that make it a far more suitable option for people with disabilities, and footwear follows suit. Some shoes are operated with zipper or velcro closures, while others are entirely hands-free. Here, we look at all the various styles of adaptive shoes and precisely what technology is behind making them adaptive.
AFO and SMO Compatible
Acquiring proper shoes that will compliment AFO or SMO braces can be a tall order, but there are a few key features to look out for. Some people will claim that simply sizing up the shoes will do the trick. However, this is not always the case since the AFO and SMO braces are primarily in place to support balance—with too much space, balancing efforts can be counteracted.
Look for extra wide shoe options with deep toe boxes, large feet openings, and removable insoles. Common brands that offer shoes that match these features are New Balance, Skechers, Vans, and Stride Rite. For the occasion when two different size shoes are necessary, Zappos and ikiki both offer the sale of individual shoes.
Zipper, Hands-Free & Easy-On Adaptive Shoes
Several of the companies listed above sell zipper shoes, hands-free shoes and other easy-on shoes. These terms all fall under the umbrella of "adaptive shoes," and make it easier for those with certain disabilities to done their favorite footwear.
Though these shoes do not need to be tied, many sport fashionable laces so they look like their traditional counterparts.
Velcro and Anti-Slip Adaptive Shoes
Adaptive shoes with velcro closures and anti-slip soles are made to alleviate the burden of bending over to tie shoes. This type of technology, while great for anybody who experiences mobility issues, is a particularly great option for seniors. The velcro closure reduces the risk of injury because of the ease in which these types of shoes are securely fastened, and these shoes typically come equipped with anti-slip soles. Anti-slip soles take safety to a new level and reduce the risk of falling due to any loss of traction on more slippery surfaces.
Single Shoes & Different Size Shoes
Some people with disabilities only need one shoe or require two different size shoes to accommodate their needs. While this may seem as if it is not an option, many companies now offer singles programs or the ability to customize an order for different sizes. Companies like Friendly Shoes and Zappos offer single shoes and different size shoes.
If you have any suggestions on adaptive footwear or know of any great places to check out that we missed, please contact us or leave us a comment below!