While society is finally catching up with the times and acknowledging that diversity among its people is beneficial, many jobs for people with disabilities still come with prejudiced barriers and challenges. These obstacles range from employers anticipating accommodation inconveniences to formulating preliminary judgments about performance founded solely on the disability alone. However, many people with disabilities have proven that they are frequently underestimated for their abilities rather than their disabilities and feel undervalued as integral, contributing members of the organizations in which they are employed.
Fortunately, advancements in technology have begun closing the gap through various avenues such as work from home jobs for disabled people and the formulation of online job boards for disabled people. These technological advances have helped workers perform on the job and have provided quality platforms that connect the worker directly to the employer. Still, this does not offset the fact that finding decent work as a person with disabilities comes with a supplementary set of challenges. So, what are the most promising avenues to begin your search?
Other Ways to Find Employment
Finding employment can prove difficult for some people with disabilities, and job boards certainly aren't the only options. Use these resources to get help on the state and local levels.
Employment First Initiative: A federal program designed to increase community-based, integrated employment opportunities for those with significant disabilities. Some states have their own EFI hubs as well.
Vocational Rehab: Free services to help disabled individuals prepare for, obtain and maintain employment. This is a federal site with a link to state vocational rehabilitation offices and other disability employment programs.
Local I/DD Agencies: Your local I/DD agency can direct you to additional resources tailored to your location. This website links to state I/DD websites, which you can then use to find your local I/DD contacts.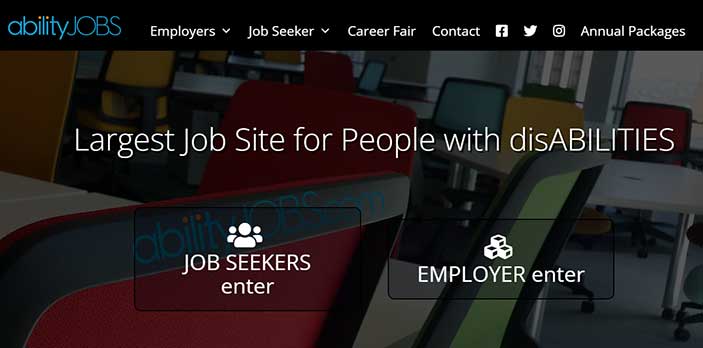 The first stop on our journey is at an incredibly resourceful website dubbed abilityJOBS. This platform has tons of great features and works hard to eliminate communication and distance barriers. Through this website, job seekers can create a profile, upload a resume, and even attend one of their face-to-face online job fairs. Above providing a space for all people with disabilities, this site emphasizes the value of the military and highlights jobs for disabled veterans. Whether you are an aspiring comedian or a military veteran, abilityJOBS has the aptitude to connect you with your passion and the resources that enable you to flourish.
Dedicated avenues for disabled veterans
Quality Resources Page with access to Job Seeker Specialists.
Online Face-to-Face Job Fairs and interviews.
Entertainment Careers through AbilityEntertainment sponsorships with NBC Universal and featured client Disney Television Animation.
Sponsorships with Large Organizations and Government Entities such as Amazon, Wells Fargo, The IRS, and The FBI.
No cost to job-seekers.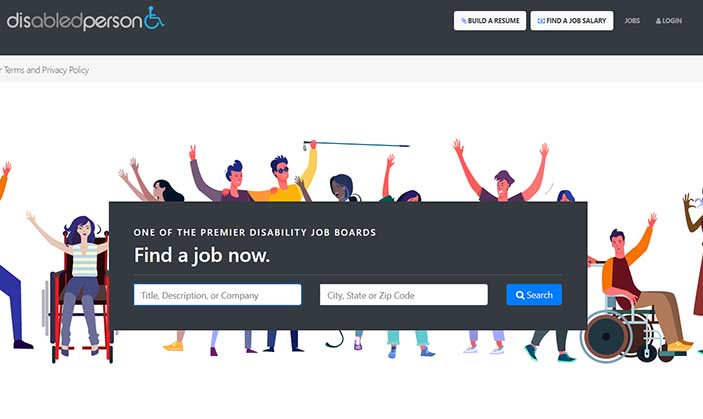 When integrity is a value you hold near and dear, the job resources and mission at disABLEDPerson will align perfectly with your moral fiber. This website and job board has earned a prominent place in the overall efforts to diminish unemployment rates among disabled people—and they do it all without chasing after profit margins. The site is highly user-friendly, and the job board itself navigates easily. Build a resume right on the platform and search by location, company, job description, or job title.
Features:
Employment Blog to read up on recent trends and opportunities
Access to courses that improve your marketable skills
Resources Page with a dedicated focus on Accessible Technology 101
No cost to job seekers.
Need Stylish Work Apparel?
By putting disability inclusion to work, AbilityLinks has built an entirely free platform for job seekers. This site easily allows you to create an account, post your resume, and apply for jobs. AbilityLinks has thought about it all—mobility, learning, hearing, and neurodiversity, to name a few. The job board allows you to easily filter based on what state you live in, necessary accommodations, and desired occupational field. While this website is a great resource nationwide, it is specially optimized for those around the Chicago, IL, area.
Features:
Job and Career Resources for how to choose a career or job goal.
List of featured employers
Up-to-date News and Highlights.
Easy to filter Job Board.
No cost to job seekers.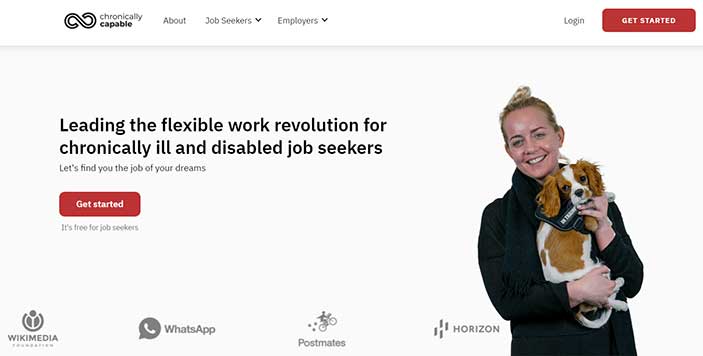 The fine folks at Chronically Capable work diligently to eliminate the stigma and apprehension of working with chronically ill or disabled people from the hiring process. By working directly with various organizations across multiple industries, this platform effectively unites people with disabilities with promising employers. You can even join Club Capable, a community of gifted professionals working and living with disabilities.
Features:
Club Capable – a network of peer support and resources
Network of dedicated employers including Levi Strauss and Horizon Therapeutics.
Diversity Focused across boundaries of race, gender, sexuality, or disability.
No cost to job seekers.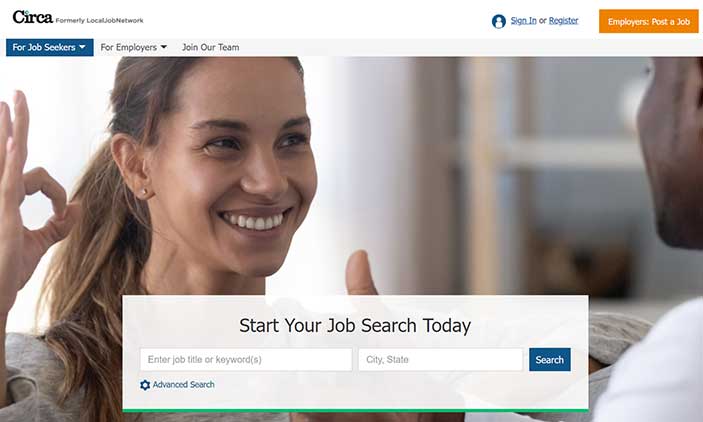 This nationwide network of sites, known as Circa, is primarily focused on one thing—connecting talented people with disabilities to their local businesses to enhance the livelihood, growth, and diversity of their communities. What began as one single website has grown into over six hundred dedicated sites with twenty-five thousand jobs for people with disabilities, added throughout the country each day. Utilize their unique Job Search Tools resource to enhance your efforts in landing that perfect gig!
Features:
Nationwide Network of 600+ sites
Partnered with over 15,000 employers
Unique Job Search Tools
List of upcoming career events.
No cost to job seekers.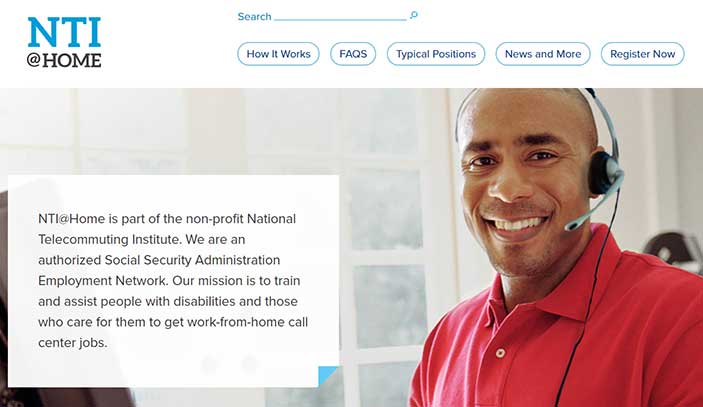 If the thought of working in your pajamas is particularly appealing, NTI@Home might be the opportunity you have been seeking. NTI@Home is proud to be part of the non-profit National Telecommuting Institute. Its mission is to train and assist people with disabilities to acquire work-from-home call center jobs. The typical work-from-home jobs for disabled people you can expect to obtain through this network include Customer Care Agents, Order Entry Clerks, Customer Care Representatives, and Telephone Interviewers.
Features:
This reputable non-profit organization is approved by the Social Security Administration's Ticket to Work Program
No Charge Services include direct job placement, skills training, and job coaching.
Facebook group to stay informed on what new jobs are available.
No cost to job seekers.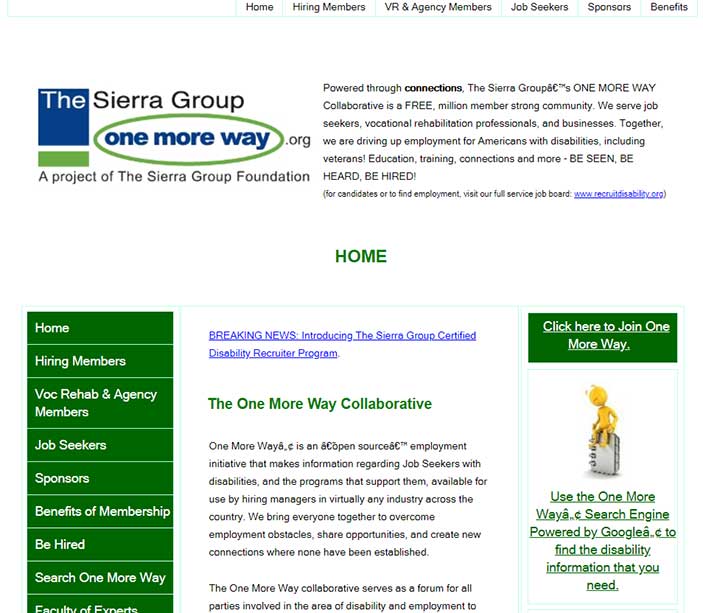 You are eagerly invited to join their one-million-member strong collaboration to drive up employment numbers for people with disabilities. As a project of the Sierra Group Foundation and in association with recruitdisability.org, the group at The One More Way Collaborative has put together a robust set of resources that helps to connect employers to job seekers through various effective avenues. By taking advantage of their free membership, job seekers can post a resume on the disability job boards, gain access to career coaching, and engage with hiring members through convenient teleseminars.
Features:
Access to teleseminars geared explicitly towards job seekers, disability job placement services, and hiring members.
Use of the powerful, One More Way Search Engine powered by Google.
Free Voc Rehab & Agency Service Provider Membership enables you to access job leads and information and career coaching directly and discounted teleseminars.
No cost to job seekers.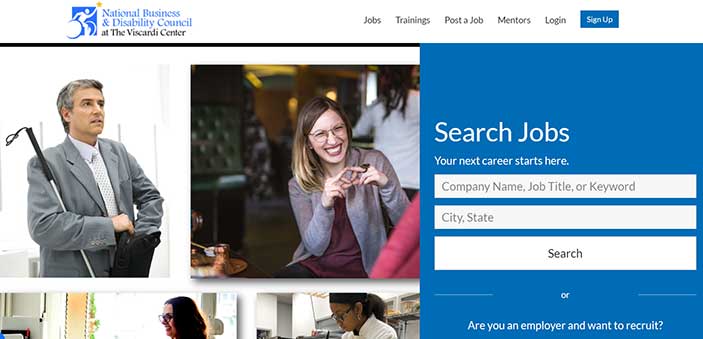 The National Business & Disability Council at The Viscardi Center is an employer organization that primarily engages with government entities and fortune 1000 companies to promote diversity within their workforce. In addition to providing resources on disability best practices, this Council assists corporate companies in marketing to the over fifty-six million Americans with disabilities. Through their Disability Employment Source (DES), job seekers can connect with employers via cutting-edge technology, making finding jobs that match their skillsets seemingly effortless. Job seekers can take advantage of their career matching and training opportunities to land their ideal position.
Features: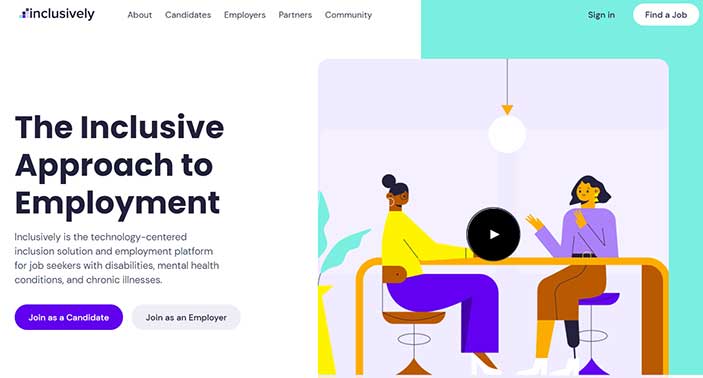 This technology-centered network of professionals known simply as Inclusively has been on a mission to drive up employment numbers in the disability community. Inclusively is dedicated to going further than just a person's background. By correlating skillsets with the accommodations needed for success in the potential position, Inclusively has been able to match employer to employee time and time again successfully. Job seekers with learning disabilities can be matched, and so can job seekers with mobility challenges or other impairments.
Features:
A personalized job search that connects to the leading inclusive employers.
Relationships with employers such as Microsoft and Charles Schwab
Ability to create a free profile with your work experience, education, skills, accommodations, and more.
Notifications to job alerts based on your profile and an easy way to connect to increase hiring chances.
No cost to job-seekers.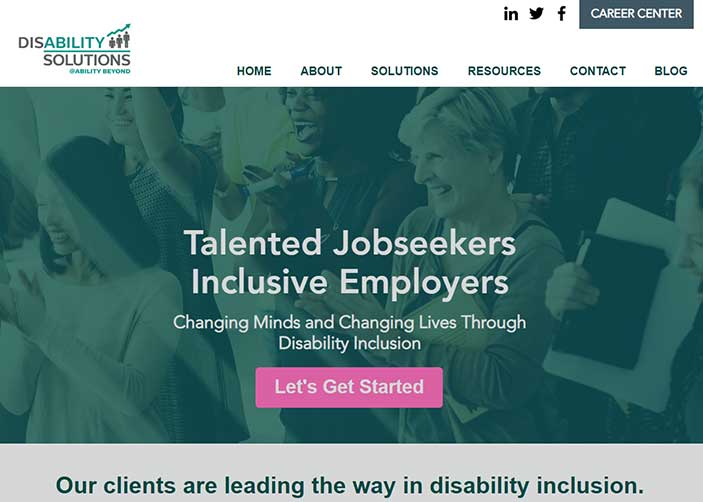 Gain access to incredible job-seeking tools with Disability Solutions at Ability Beyond. The job boards for disabled people on this platform are highly comprehensive and include hundreds of thousands of job listings. You can sign up for job alerts as well and easily access their career resources page. Easily create a resume and search for jobs based on category, city, state, and country. A few noteworthy companies listed on the job boards include Bank of America, Pepsi Beverages Company, and Honeywell.
Features:
Large job board with hundreds of thousands of job listings.
Ability to quickly create a free resume and set up job alerts.
No cost to job-seekers. Career resources page.
Do you know about other resources for finding jobs for people with disabilities? Contact us and let us know!