More companies than ever offer adaptive shoes, but shoes are only part of the footwear challenges faced by some people with disabilities. Adaptive socks are just as important for those who struggle with traditional clothing. That's where Beedlebug comes in. Beedlebug makes adaptive socks with a pulley that makes it easier for people with disabilities to put on their own socks.
Innovation is borne out of necessity, and Beedlebug was founded by Linda Beedle after she adapted socks to help her oldest grandson, Coen.
"Coen has cerebral palsy and is on the spectrum. From that, he has dexterity challenges," Linda explains. "For many years I have adapted items and made things around the house for him so he could have success at tasks. The goal is to help him become more independent, and he now puts his own socks on."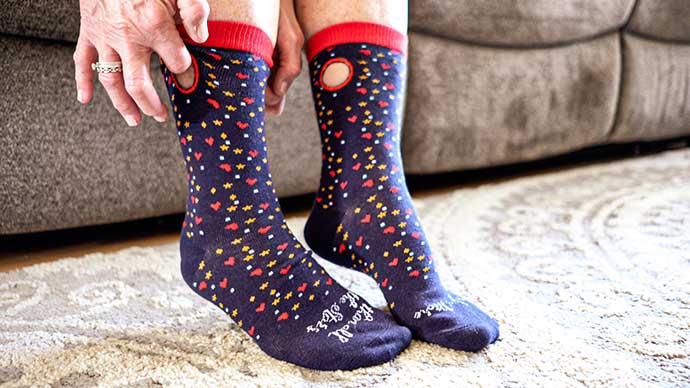 Beedlebug socks are designed with an embroidered pulley hole on the side, so wearers can simply put their fingers through the hole to pull the socks up and on. The pulley makes putting on socks easier for anyone with dexterity issues, back issues, arthritis or anyone in the aging community.
Linda says her company takes great care to make the socks comfortable, soft and a good fit. The "SockieTalkie" socks feature colorful, fun and stylish designs along with positive sayings on the toes (such as "Hey You! You Are Amazing!") that read to the wearer.
"We really want to start everyone off on the right foot each day with a positive saying," Linda says.
Available sizes include women's, men's, youth large, youth medium, youth knee-high, large, medium, small and extra-small, so there's a Beedlebug sock to fit everyone. They can be purchased as individual pairs or in three-pack bundles.
In addition to the current catalog, Linda says Beedlebug is creating new products and designs, as well as some exclusive products for new retailers, and an AFO sock is in the works.
Beedlebug has a philanthropic program in which the company donates to Sacred Heart Children's Hospital in Spokane, WA, as well as Shriners Hospital and women's and children's centers.
"We have a special relationship with Shriners Spokane as Coen has been a lifelong patient," Linda says. "Folks can go to our website and purchase socks for kids and request them to be donated to the Shriners. Then, Coen and I personally deliver!"
You can purchase Beedlebug socks at Beedlebug.com, Zappos and JC Penney.
Looking for Adaptive Shoes or Adaptive Clothing?