If you're not disabled, it's easy to take the connectivity provided to us by our smartphones and mobile devices for granted. Those who suffer from physical or developmental disabilities do not have that luxury. It's estimated that nearly 15% of the world's population have a disability, whether physical or developmental, that restricts them in some way from accessing modern communication networks. Connectivity is more important than ever, which is why it's critical that phones for disabled people are easy to find and use.
Manufacturers and software developers are beginning to take notice, producing both hardware and software solutions to the problem of access for those with disabilities. Let's look at some of the best phones currently available for the disabled.
Phone considerations for the physically disabled
For the person with physical disabilities, tasks that we take for granted may be extremely difficult or impossible. Phones that require fine motor skills and acute vision are particularly problematic.
Depending on the type and severity of the physical disability, the actual requirements of a phone will vary greatly: cell phones for the blind come equipped with braille keypads, phones for the hearing impaired or deaf have flashing visual ringers, and phones for those with cerebral palsy might feature oversized buttons.
Here are some key elements that you should look for when shopping for phones for the physically disabled:
Simple and ergonomically accessible hardware design
Streamlined operational menus
Easy to read displays
Adjustable sound levels
Lighted "ringers"
As with any hardware solution for the physically disabled, the type of disability will be the determining factor in the chosen solution. Keep in mind what the key limitations are for the disabled person who the device is intended for.
Phone considerations for the developmentally disabled
Tasks requiring memory, attention, reading skills, and more can be difficult for people with cognitive disabilities. This may make it difficult for some people with Down syndrome or autism to use conventional landline or mobile telephones.
Phones that employ simple and consistent user interface (UI) elements may make it easier to overcome these hurdles. When looking for suitable phones for the developmentally disabled here are some of the important elements to keep in mind:
Simple operation
Limited setup issues
Bright, clear display
Voice activation features
Video phones
As with any hardware solution for the developmentally disabled, the scope of the disability and the person's cognitive level will be the determining factor in the chosen solution. Keep in mind what the key limitations are for the disabled person who the device is intended for.
Best phones for disabled people
Our list is segmented into three types of phones: mobile (cell) phones, cordless landline phones and corded landline phones.
Jump to:
Mobile phones
Mobile phones are good options for disabled people on the move, whether they go to work or leave the home for shopping or entertainment.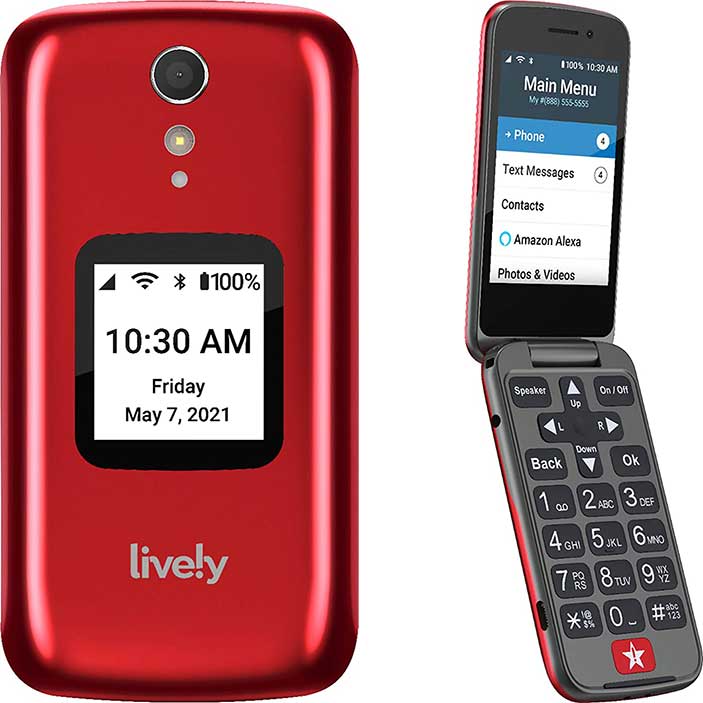 Typically marketed as a cell phone for seniors, the Jitterbug Lively Flip is also an option for those with physical and developmental disabilities. It features bright, large-text backlit display that's easy to read in low lighting, oversized numeric buttons and simple navigation with an arrow keypad plus "Back" and "OK" selector buttons.
One of the Lively Flip's most useful features is its Urgent Response button. A single press of the large, red button connects the user with an IAED-Certified response agent, who can get them help or let them speak with a health professional.
Choose the Great Call Link option, and designated family and friends will receive alerts on their own phones if the Urgent Response button is pressed. The service also notifies loved ones if the battery is low and allows them to check the user's location.
Getting around can be difficult for some people with disabilities. The Jitterbug Lively Flip can help with that, too: dial "0" to be connected to an operator who can send a Lyft driver. It's an option for those with a physical disability that prevents them from driving, or perhaps someone with Down syndrome who needs a ride to work, the mall or the movies.
This phone works with Alexa, which makes it easy to send and respond to texts via voice command. It also comes with a magnifier, flashlight, 8MP camera and speakerphone functionality. The carrier is Great Call, which operates on the Verizon network and offers U.S.-based customer service and support.
The phone is priced at around $99, and wireless plans range from around $20 to $35 per month.
Key Features:
Large, backlit display
Oversized numeric buttons
Simple arrow navigation
Urgent Response button instantly connects to IAED-Certified operator
Optional instant alerts on family and friend phones
Dial "0" to call a Lyft
Alexa compatible
Speakerphone
Magnifier with flashlight
8MP camera
Operates on the Verizon network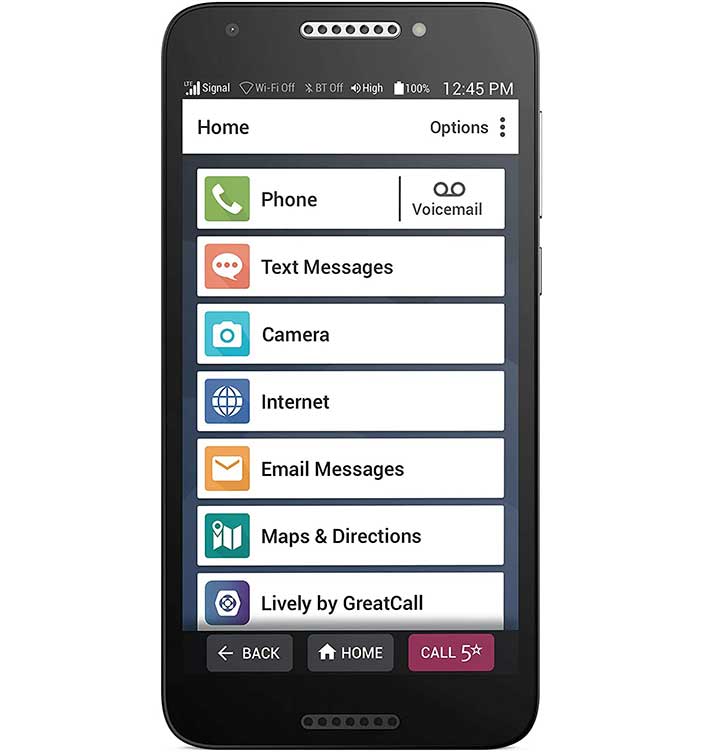 Billed as "the simplest smartphone ever," the Jitterbug Smart 2 features a list-based touchscreen menu. The list style, and large text accompanied by obvious icons makes it easy for both seniors and those with disabilities to quickly select functions like phone calls, voicemail, text messages, camera, Internet browser, email and maps/directions.
Like its flip phone cousin, the Jitterbug Smart 2 also has an Urgent Response button that instantly connects the user to an IAED-certified operator who can get them help – from emergency services to live calls with a doctor or nurse. An optional free app also sends alerts to designated friends and family if the Urgent Response button is pressed, and allows loved ones to view the user's location and notifies them if the battery is low.
Other disability-friendly features include large, accessible buttons, a 5.5" HD screen, voice typing, video chat and speakerphone function. It comes packed with everything you'd want in a smartphone, too, including a 13MP camera and the ability to download a limited number of apps and games. The phone operates on Great Call, which utilizes the Verizon network – the nation's largest and most reliable wireless provider.
The phone is priced at around $150, and wireless plans cost between $20 and $35 per month.
Key Features:
List-based touchscreen menu
Large, accessible buttons
Urgent Response button instantly connects to IAED-Certified operator
Optional instant alerts on family and friend phones
Functions include phone calls, text, voicemail, camera, online browsing, email, maps and directions
Video chat
Voice typing
13MP camera
Apps and games available (limited)
5.5" HD display
Front-facing speaker with speakerphone capability
No long-term contracts or cancellation fees
U.S.-based customer service and support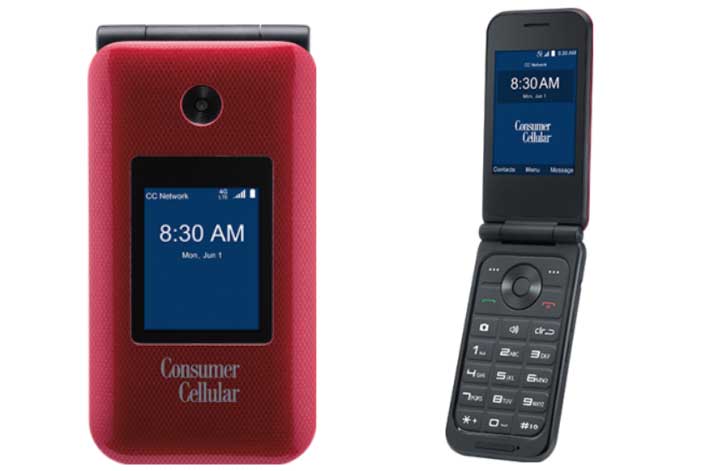 Designed for senior citizens but well-suited for those with disabilities, the Link II is a simplified flip phone that features bright, colorful dual LCD displays and large numeric buttons. A beveled edge facilitates opening the phone, which is also compatible with hearing aids.
It also offers dual microphone noise suppression to help users hear conversations with clarity. Bluetooth users can take advantage of the phone's wireless connectivity for hands-free calling, and the Link II is M3/T3 hearing aid compatible for seniors and others who are hard of hearing.
This phone also features video and picture messaging with its front-facing 2MP camera, and its capable of shooting video in 720p. GPS-enabled, the Link II is 4G-compatible on the Consumer Cellular network and boasts up to 14 hours of talk time and up to 16 days of standby time, so battery life is a non-issue. Customer support is based in the U.S.
The phone costs around $30, and unlimited talk and text plans range from $20 to $38 per month. Talk-only plans cost between $15 and $18 per month, while 250-minute talk plus unlimited text plans range from $18 to $35 per month.
Key Features:
Bright, colorful dual LCD displays
Large numerical keypad
Dual noise suppression microphones for call clarity
Hearing aid compatible
2MP camera
Picture and video messages
720p video
Up to 14 hours of talk time (up to 16 hours standby)
Consumer Cellular network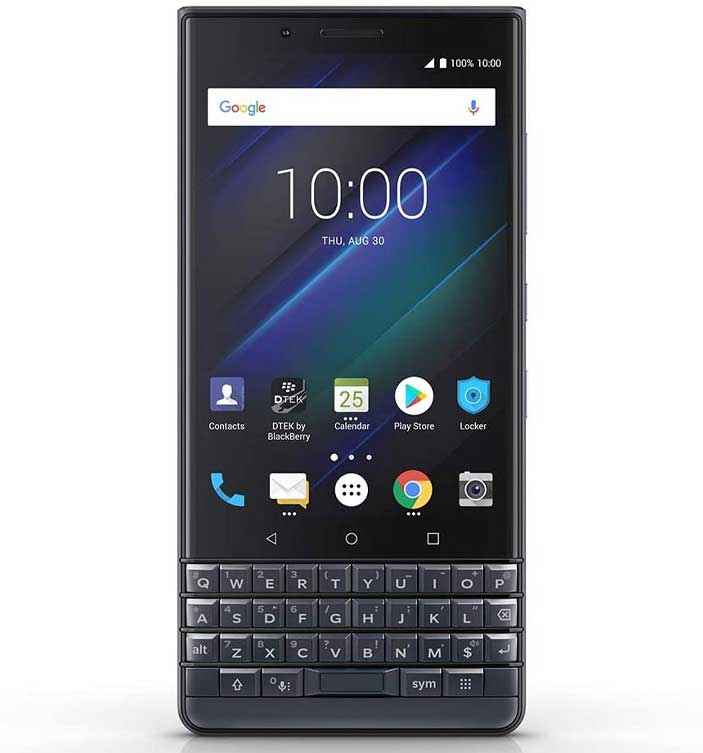 Though the BlackBerry Key2 LE wasn't exclusively designed for disabled people, the phone lands on our list because it offers multiple features that enhance usability. For starters, it's one of the few phones that still offers a physical keyboard – a major benefit for anyone who struggles with touchscreen typing.
That doesn't mean the BlackBerry Key2 LE is yesterday's phone – the smart keyboard offers speed key, touch navigation, auto correction, word prediction plus the ability to program up to 52 keys to add actions and phone numbers for quick dialing.
This feature-rich phone also offers text size adjustment, magnification settings, TalkBack audible output, voice dictation and hearing aid mode. It also comes with TTY and Braille support, and it has a rubberized and textured back for ultimate grip-ability.
Beyond those benefits, the BlackBerry Key2 LE also comes with dual rear 13MP and 5MP cameras, a 300mAh battery (with Quick Charge 3), a fingerprint sensor and the ability to navigate with switches.
The phone costs around $740, with monthly fees dependent on your selected wireless service.
Key Features:
Physical smart keyboard
Up to 52 programmable keys
Text size adjustment
TalkBack audible output
Voice dictation
Hearing aid mode
TTY support
Braille support
Switch navigation
Textured, rubberized back
13MP and 5MP cameras
Magnification
Fingerprint sensor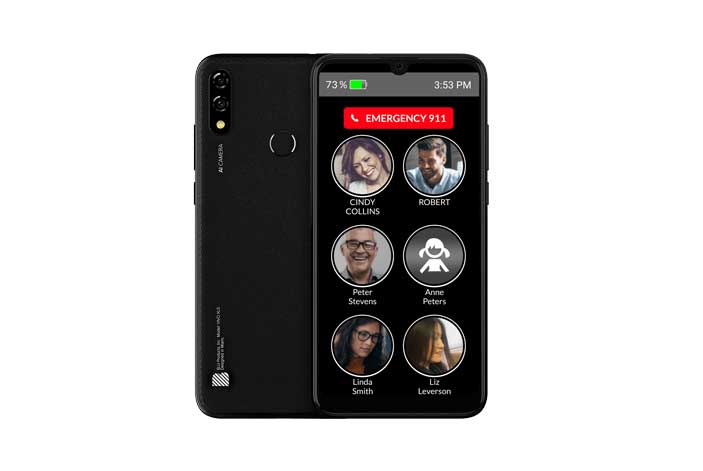 The RAZ Memory Cell Phone offers a feature that's absent from many "simple" smartphones: one-touch photo calling. Designed for people with Alzheimer's, dementia and intellectual disabilities, the RAZ Memory Cell Phone has arguably the simplest smartphone screen: six contact pictures, a red 911 emergency call button, the time, signal strength and battery life.
To make a call, the user only has to touch any of the six contact pictures (up to 24 can be added, if needed). The emergency button dials directly to 911. If accidental emergency calls are a concern, you can optionally subscribe to the RAZ Emergency Service. In that case, emergency calls are routed to a RAZ dispatcher who is aware of the caller's condition and can help determine whether 911 needs contacted. The service also texts designated caregivers who can assist. It costs $8/month with a $20 setup fee.
The RAZ Memory Cell Phone only has the one, single screen on its extra-large, bright 6.3-inch display. The volume level is always set on maximum, and a speakerphone function is available. GPS tracking is included at no additional cost, and the phone boasts a long-lasting 4,000 mAh battery.
A protective case is included with the phone, which costs $309 to $349, depending on your selected wireless service. The $309 version supports AT&T, T-Mobile, Cricket Wireless, Consumer Cellular, Red Pocket Mobile, Mint Mobile (it comes with three free months of Mint service), Straight Talk and Metro by T-Mobile. The $349 version supports Verizon Wireless. Wireless fees depend on your selected service.
An online portal allows caregivers to manage the device, and there is an option to limit its use only to incoming calls.
Key Features:
One-touch photo calling
Up to 24 photo contacts (default is 6)
Simple, single screen
Dedicated emergency call button
Optional RAZ emergency service to prevent accidental 911 calls
Bright 6.3" display
Option to limit to receiving calls only
Zero cost GPS tracking
Speakerphone
Caregiver management online portal
Protective case
Compatible with a variety of popular carriers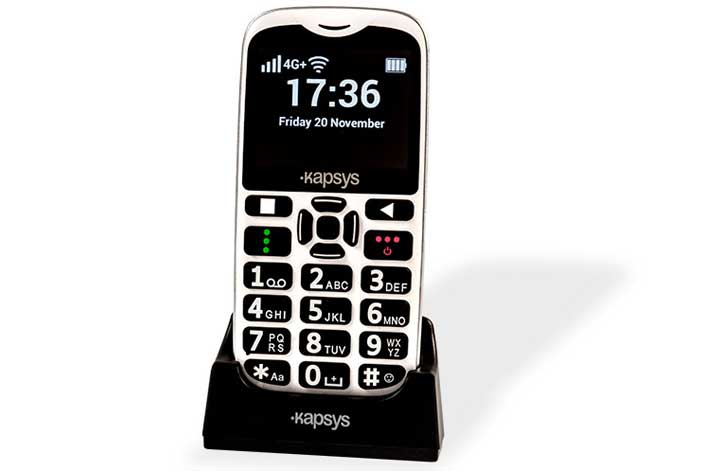 The RAZ MiniVision2 is a big button cell phone designed for people who are blind or visually impaired. This accessible phone features talking voice guidance: it speaks with every button pressed and everything displayed on the screen. For example, it reads contact lists, text messages, Caller ID, time, date and remaining battery levels out loud.
It also responds to audio commands, enabling users to make calls and send texts via their voice. The phone also comes with large, well-spaced tactile buttons and a dedicated SOS button that automatically calls emergency contacts when pressed. Multiple languages are available.
In addition to these disability-friendly features, the RAZ MiniVision2 also offers adjustable font sizes and color schemes, a money identifier, an alarm, weather reports, flashlight, camera, voice memos, an FM radio and a "where am I" locator.
The phone works with popular GSM carriers like T-Mobile and AT&T as well as MNVOs like Straight Talk, Cricket Wireless, Mint Mobile, Consumer Cellular and Metro by T-Mobile. It's priced at $309, and monthly service depends on your selected wireless carrier.
Key Features:
Talking phone with audio guidance (reads the screen, contact lists, texts and more)
Responds to voice commands to make calls and texts
Big tactile buttons
SOS button dials emergency contacts
Adjustable font sizes and color schemes
Camera
Voice memos
FM radio
Alarm
Weather reports
Works with GSM carriers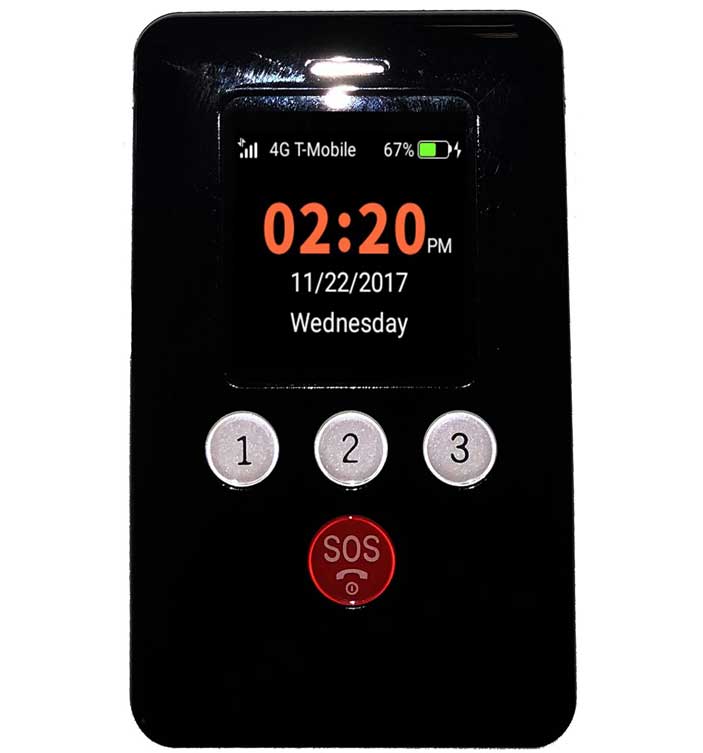 Don't let the name fool you: in addition to being designed for children, the KidsConnect KC2 also makes a good phone for autistic individuals and those with Alzheimer's or other types of dementia. Safety and security are priorities for this phone, which features built-in GPS/LBS/WiFi location and real-time tracking with geo-fencing that can alert you via text when the user arrives at or leaves a predetermined location.
A push of the bright red SOS button sends a text with the user's location to up to three caregivers, then autodials those caregivers until one answers the phone. The KidsConnect KC2 also comes equipped with three speed dial buttons that dial pre-set numbers, plus a 15-contact address book accessible via touchscreen. When placed in family mode, the user can only call people who are listed, and only the numbers listed can call the user (all other numbers are blocked).
Caregivers can track location history via computer, tablet or smartphone. They can also use the voice monitoring feature, which allows them to remotely activate the microphone and hear the surrounding environment. The phone cannot access the Internet or download apps.
The phone also comes with a lanyard to help prevent accidental loss and drops as well as an ID card on the back that can list the user's name, emergency phone number, medications and allergies.
Phone services (4G LTE) are available on both the T-Mobile and AT&T networks. T-Mobile plans range from $15 to $45 per month and AT&T plans range from $25 to $60 per month. The phone itself costs $85 to $130, depending on where you buy it.
Key Features:
4G, GPS tracking with SECURE TRACKER app
Geo-fencing with text notifications when user enters or leaves a location
SOS button
Voice monitoring
Speed dial for 3 numbers
15 number phone book
Family mode blocks calls not on pre-programmed list
Location history
T-Mobile or AT&T network
U.S. based customer support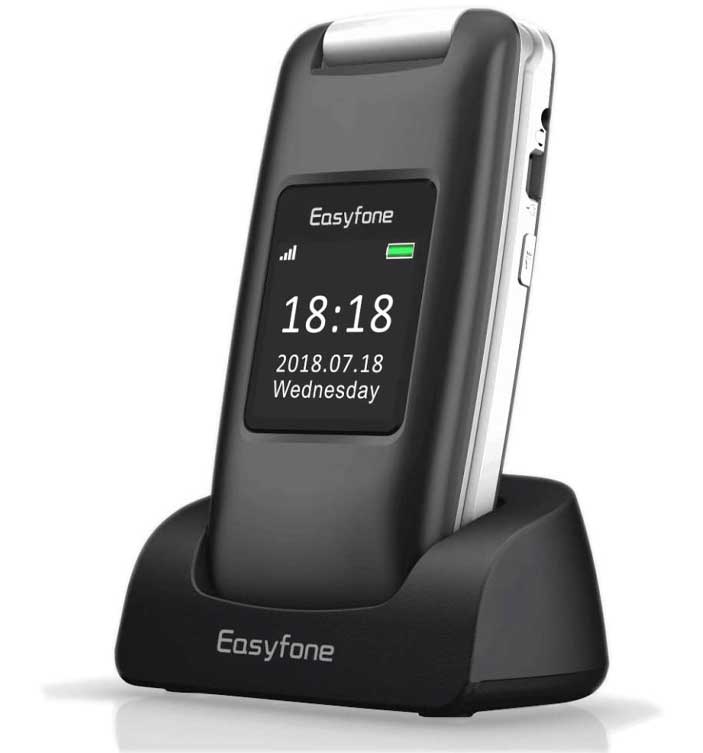 The Easyfone Prime A1 is a big button flip phone designed for the elderly, yet a solid option for disabled people who want an easy to use mobile phone. It features large backlit buttons plus oversized fonts and icons for easy dialing. It's also a good option for the hearing impaired with elevated volume levels and M4/T4 hearing aid compatibility.
It also has an SOS emergency button, two direct dial keys for caregivers and family contacts and eight speed dial keys with optional photo dialing. Other features include a dock charger and flashlight.
Good for users who need a simple phone, the Easyfone Prime A1 isn't the most feature-rich option – it only has a 2MP camera and works on 3G networks, so it is not compatible with 4G LTE technology. Carrier options include Lycamobile, Cricket, Straight Talk, H20 Wireless and Metro by T-Mobile. The phone is priced at around $65.
Key Features:
Large, backlit buttons
Extra volume
M4/T4 hearing aid compatible
SOS button
2 direct dial keys
8 speed dial keys with optional photos
2MP camera
Flashlight
Dock charger
Cordless landline phones
Cordless landline phones are good options for people who like to walk and talk, moving around the home (or even to the backyard) while they're speaking with friends, family and caregivers. Some systems also offer intercom capabilities, which is perfect when seniors or disabled people live with family members and have their own private spaces.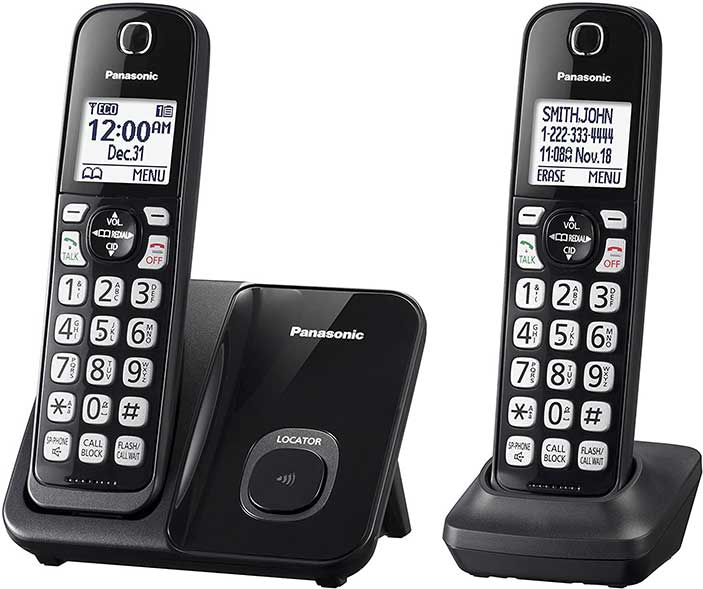 The Panasonic Expandable Cordless Phone System comes with two handsets that can function as intercoms, which makes it a good choice for disabled family members who live in the same home (it's even expandable to six handsets). Both handsets feature large backlit, high contrast displays and buttons to make it easier to see. Ringtones are programmable and can be assigned to avoid the confusion of "who's calling who?"
Outside of those features, this phone system offers the same functions you'd find on any popular cordless phone: speed dial, caller ID, call blocking and speaker phones. The phone is priced at around $72.
Key Features:
2 handsets
Intercom function
High contrast displays and buttons
Assignable ringtones
Standard phone jack
Wall mountable base unit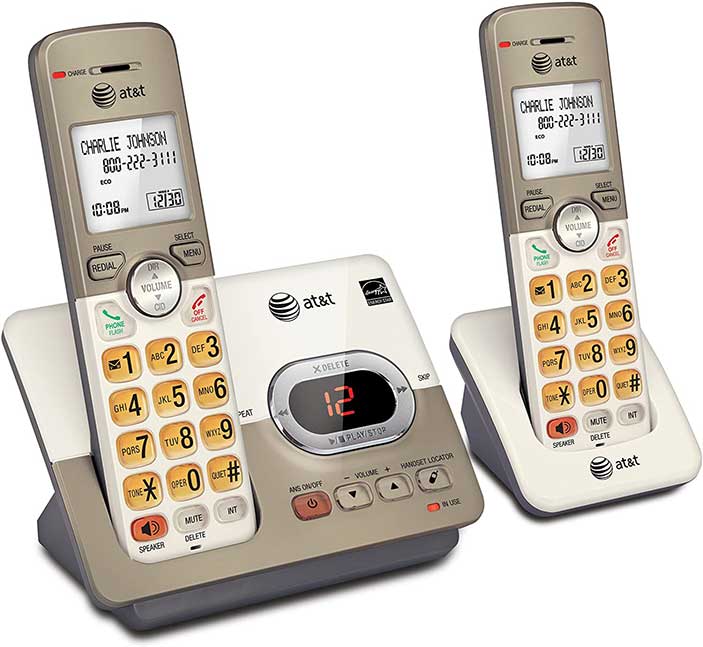 Another expandable system, this AT&T set comes with two handsets and features intercom functionality and an oversized, high contrast lighted display. Coupled with large backlit buttons, that makes it a good option for the visually impaired.
The AT&T EL52213 also has a digital answering system, speakerphones, caller ID and call waiting, and only needs one standard phone jack to service up to five phones. The base can be desk or wall mounted. The phone costs around $50.
Key Features:
Extra-large, high contrast, backlit display
Large backlit buttons
Expandable to five handsets
Desk or wall mount
Designed for senior citizens yet applicable to a range of disabilities, the VTech SN5127 features a high-contrast, orange backlit, large number display and a base with four programmable photo buttons. The handset numeric buttons are large with ample spacing that makes dialing easier for those with physical disabilities, and it comes with an extra-large earpiece plus Audio Assist that temporarily increases call volume up to 50 decibels for the hard-of-hearing (ringer volume can be set up to 90dB).
The system is expandable to up to four handsets, which can be used as intercoms – ideal for multi-person households that need simple communication that doesn't jeopardize privacy. The phone also features an answering machine, caller ID, speakerphone functionality and wall or desk mount options. The phone costs around $50.
Key Features:
Large lighted display
4 programmable photo buttons
Incoming call indicator light
Up to 50 dB call volume & 90 dB ringer volume
Expandable to 4 handsets w/intercom function
Answering machine
Speakerphone
Desk or wall mount
Corded landline phones
Corded landline phones might be ideal if the user doesn't need to be mobile. They're often feature-rich yet affordable phones for people with disabilities.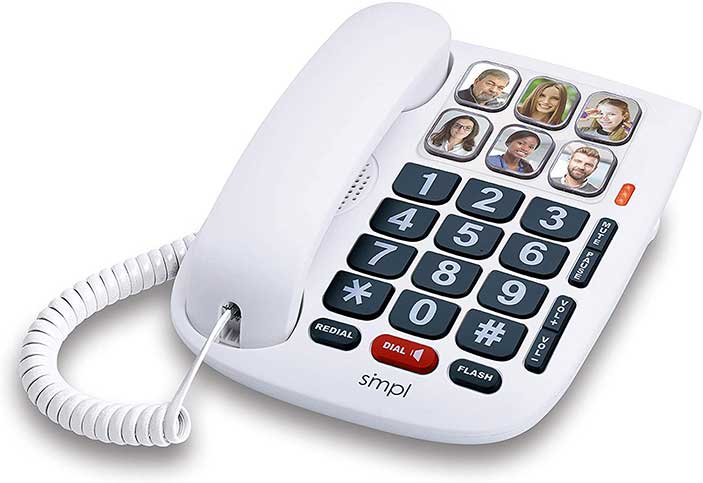 The SMPL Hands-Free Dial Photo Memory Corded Phone features six one-touch photo buttons – place your own photos under each button, and making a call is as simple as a single touch. That makes it a good option for those who struggle with physical dialing, whether due to a physical or developmental disability.
This hearing aid-compatible phone is also ideal for seniors and the hearing impaired. It has an incoming call indicator light and three ringer volume levels that can be set as high as 75 decibels. The earpiece offers four volume levels, up to 87 decibels.
This phone also comes with large, one-inch numeric buttons, works with answering machines and can be mounted on a wall or placed on a desk or counter. It plugs in to a traditional phone jack, too, so no WiFi is necessary. It's priced at around $60.
Key Features:
6 one-touch photo buttons
Hearing aid compatible
Call indicator light
Up to 87 dB call volume & up to 75 dB ringer volume
Oversized buttons
Wall or desk mount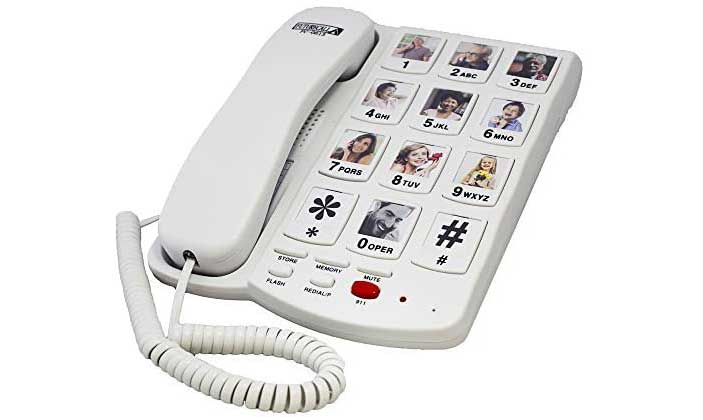 Another photo button phone, this Future Call model lets you place up to ten of your own photos on the numeric keys. It also features a reprogrammable 911 button, so you can set a custom number that's automatically dialed in the event of an emergency. To avoid reprogramming, the phone has a Phone Number Store ON-OFF switch that prevents erasure.
A good option for both the hearing and visually impaired, the Future Call FC-0163 is compatible with hearing aids and flashes on incoming calls. The oversized one-inch buttons are also ideal for anyone who finds it difficult to dial phone numbers. It uses a standard phone jack. It's priced at around $40.
Key Features:
10 programmable photo buttons
Programmable 911 button
Hearing aid compatible
Incoming call indicator light
Oversized 1" buttons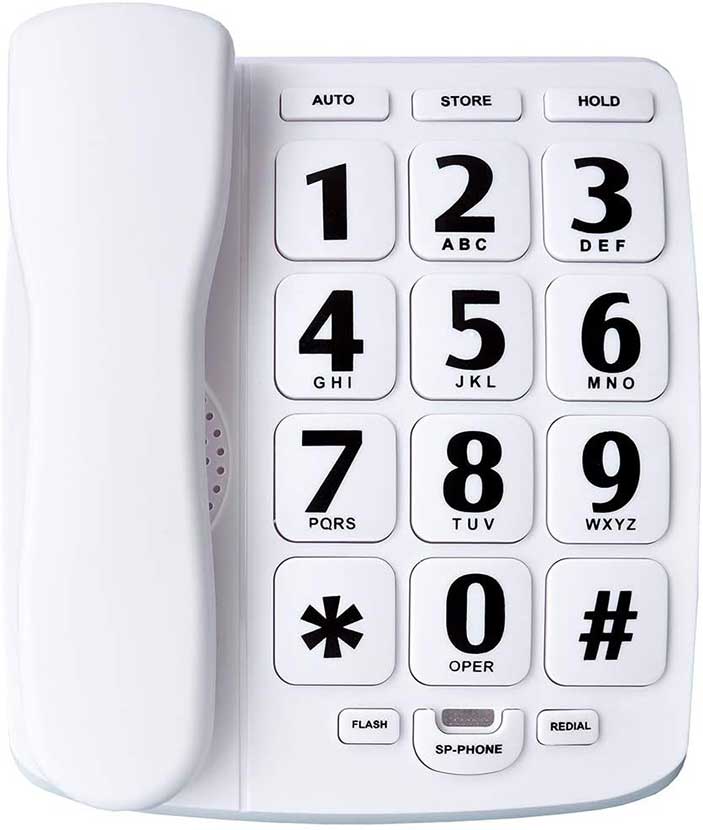 This phone features oversized buttons and 2-touch speed dial to simplify making phone calls. It's a good option if you're looking for a large keypad and you don't need to add photos. The speakerphone mode makes it a good choice if holding a headset causes discomfort.
Speakerphone, handset and ringer volume levels are adjustable and can be set up to 40 decibels. The JeKaVis J-PO2 large button corded phone can be placed on a desk, counter or end table or mounted on the wall. It uses a standard phone jack. It's priced at around $37.
Key Features:
Oversized buttons
2-touch speed dial
Speakerphone mode
Volumes adjustable to 40 dB
Desk or wall mount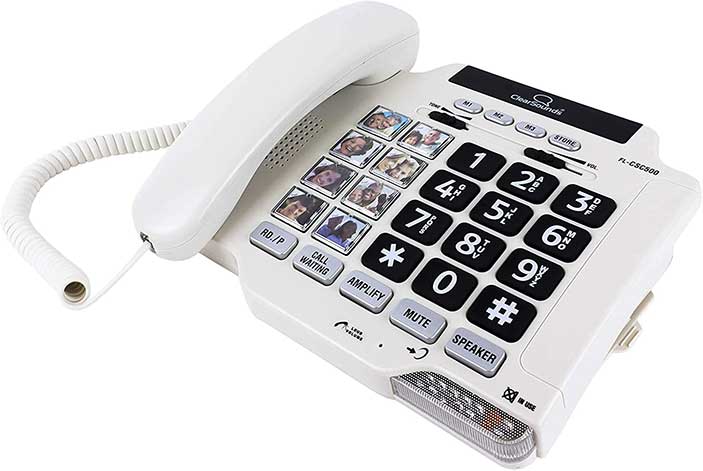 Add up to eight of your own pictures to the ClearSounds CSC500, which features oversized photo buttons alongside a numeric keypad. The device works with a standard phone jack and has both audio and flashing visual ringers. The adjustable ringer volume reaches up to 85 decibels – roughly as loud as a lawnmower.
Another good option for the hearing impaired, the headset volume is set at 15 decibels but can be boosted to 30 decibels with a touch of the Amplify button. The ClearSounds CSC500 is hearing aid compatible and also offers a speakerphone function for hands-free phone calls. It can desk or wall mounted. It's priced at around $60.
Key Features:
8 one-touch photo buttons
Oversized buttons
Flashing ringer
Up to 85 dB ringer volume
15 dB to 30 dB headset volume
Speakerphone
Hearing aid compatible
Desk or wall mount
Do you know about a phone that should be added to this list? Let us know in the comments or contact us directly.