Identifying the right assistive technology solutions can be overwhelming, but one company simplifies the process by implementing customized, person-centered solutions that empower independence through innovation. We had a discussion with Cameron Kempson, M.Ed., Director of Education for SimplyHome to learn more about what they offer and why people with disabilities (and their families) should consider SimplyHome for their assistive technology needs.
What thought processes went into developing the SimplyHome system? What does it accomplish that standalone devices do not?
SimplyHome's founders Drue and Allen Ray began providing support for individuals with disabilities and senior adults in 1989. While their goal of empowering families and caregivers has remained constant, in 2003 they realized that new technology could change everything. The Rays, joined by their son, Jason, developed the SimplyHome System and have been expanding their offerings and services ever since. Today, we continue to live out their mission of empowering independence through innovation by offering a wide array of products and services that create dynamic and customized solutions for people in the aging and disabilities populations. We support clients throughout the United States and Canada from our offices in North Carolina and Wisconsin.
We refer to our products as "enabling technology" because our systems are designed to create opportunities for independence and empowerment. Enabling technology facilitates activities of daily living, addresses concerns, and enables people to live as they choose, taking risks with appropriate safety nets.
What makes our system different, however, is actually rooted in our mission statement: "Empowering independence through innovation."

Cameron Kempson, M.Ed., Director of Education, SimplyHome
Our SimplyHome System has evolved into a nationally recognized solution for community supported living. Full of features that help people live independently and stay connected, the SimplyHome System addresses priorities and concerns about cooking safety, sleep patterns, wandering and elopement, aging in place, and more.
After a person-centered assessment to determine priorities and concerns, the system hub and accompanying wireless smart sensors are programmed to capture daily routines at home. If individuals forget to follow through, like turning off the stove, or if they change their routine, like leaving their home at 2am, the individual can be prompted to complete the typical activity while caregivers are directly alerted by text, phone or email.
What makes our system different, however, is actually rooted in our mission statement: "Empowering independence through innovation." Even though our system has evolved to include both off-the-shelf and customized products, our technology has always focused on the capacity for people to self-determine the life they want to lead. By empowering instead of monitoring, individuals are successfully living in the homes of their choosing with "as needed" support instead of "just-in-case" 24/7 direct support.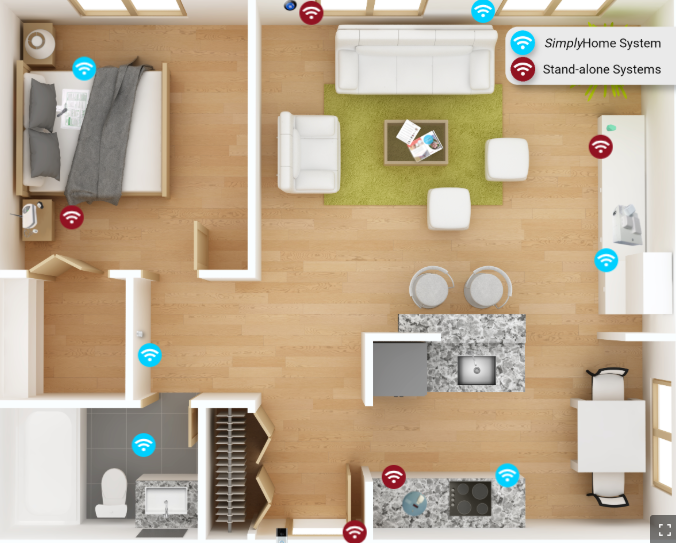 What challenges do you face, and how do you overcome them?
One challenge in our industry is state legislative entities recognizing that enabling technology is an extremely affordable, effective and safe tool for support. To overcome this funding obstacle, we advocate for more flexible state Medicaid waiver language to enhance the federal language of "any item, piece of equipment, or product system, whether acquired commercially off the shelf, modified, or customized, that is used to increase, maintain, or improve functional capabilities," so that enabling and assistive technology can be covered. SimplyHome consults with state agencies and provider organizations to provide education and resources supporting program transformation to a "person-centered technology first" approach.
Another obstacle facing health and human services is the workforce crisis. States are noting the impact of the rapid turnover of staff and lack of qualified direct support professionals. Today, provider organizations struggle to hire qualified employees and provide 24/7 staff support for community independence. As a part of various state initiatives, SimplyHome has witnessed firsthand the cost savings and programmatic successes experienced by organizations who integrate enabling technology. With these projects gaining momentum and visibility, we anticipate that additional states will follow suit.
Who is SimplyHome best suited to serve, and why?
SimplyHome's enabling technology creates greater possibilities for independence, dignity, and self-determination. We work with adults and children with disabilities, seniors, veterans, caregivers, and families to prioritize their own and their loved ones' independence.
SimplyHome offers greater independence. What role do family members and advocates play in the SimplyHome system?
Self-advocates and family members are a crucial part of the assessment and implementation process. In order to customize each system, we want to know what someone's priorities and concerns are for everyday living. We need to know who comprises the circle of support team and who will respond to notifications and alerts. We are also interested in understanding the outcomes that someone is working on in order to gain more independence.
Even though our system is considered to be working in the background, family members and advocates play an important role in using and maintaining the technology. Part of our commitment to our customers is to provide direct instruction and educational resources related to the SimplyHome technology. When a system is installed, we take the time to walk the circle of support through the functioning and care of the system.
Once a system is in place, auditory prompts from the hub unit or text notifications can support an individual's successful navigation of the steps of a routine. Alerts can also be sent to family members and other supports so they are aware when routines change and can respond as appropriate.
What comes with monthly support? Who typically pays for the system? Do you offer any financial assistance programs?
The SimplyHome System has a monthly service fee. It includes access to customer service and tech support 24/7 via phone, access to the customer web portal, and fees associated with sending texts.
There are several options for purchasing our technology. Most states pay for technology through Medicaid waivers. Families and self-advocates need to be enrolled in the state's waiver program to access that funding and support coordinators can assist with this process.
SimplyHome fulfills requests from grant-making organizations and one-time funding sources that purchase technology on behalf of an individual or family. We often reference this blog post on our website to help families seeking financial assistance: Does My State Have Funding for Enabling Technology?
Additionally, SimplyHome offers a private pay option for direct purchases but we do not bill Medicaid or insurance companies directly. Sometimes, families opt for private pay simply because technology supports are more affordable than other options. For example, a family might spend $6,840 monthly for daily care of 4 hours of daytime staff plus 8 hours of "just -in-case" overnight staff, which adds up to over $82,000 annually. Compare that to paying about $2K-$3K one time for technology, with a monthly service fee of $65 or $780 annually. While some direct daytime support might be necessary for personal care routines, the need for "just-in-case staffing" overnight is most often eliminated.
What is the most important thing people need to know about SimplyHome and how it differs from competing solutions?
We are committed to excellence and innovation to empower each person. Anyone can sell technology, but SimplyHome's desire is to create opportunities that define a meaningful life. We do this through effective technology solutions, quality customer service, knowledgeable tech support and transformational education opportunities.
As far as a more bird's eye view of how this works, saving money and allowing more people to get off the waiting list and begin receiving services, we have a page on our website: https://www.simply-home.com/case-studies
This blog post about David highlights an individual's story and the cost effectiveness of his chosen lifestyle (he is supported by enabling tech to live in the community)
Is there anything else you would like to add?
If people want to understand what we do in a more hands-on way, I highly suggest taking our virtual tour and exploring our Concerns Addressed page.
If someone would like to get more information or request a free assessment with SimplyHome, start by filling out a request for more info.