The growth of the internet-enabled home security camera market offers intriguing possibilities for families that are looking for a simple way to monitor the activities of disabled family members. Ring's Stick Up Cam is the first of their camera lineup that's designed for operation inside the house, so it's worth examining whether this could be a useful device for caregivers or family members needing an extra set of eyes to keep watch on disabled family members. In this review, we'll examine the Ring Stick Up Cam – its capabilities; pros and cons, and how it might be employed in some real-world scenarios.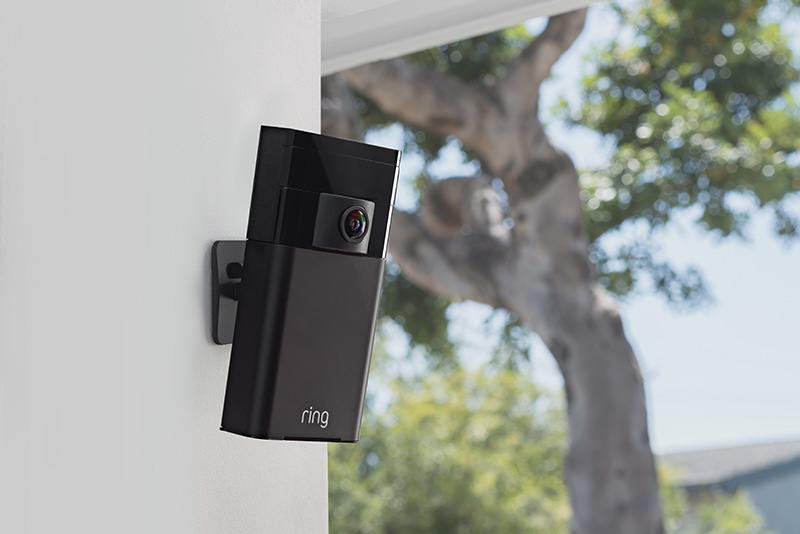 Ring Stick Up Cam overview and features

Ring Stick Up Cams connect to the internet to provide easy access for the user. Once connected to your home's Wi-Fi or Ethernet network, video feeds can be viewed by iOS or Android devices, or by Mac or Windows computers. Ring Stick Up Cam installation is easy – Stick Up Cams are small (5" x 2.5" x 1"), and can be mounted on the wall, ceiling, or placed on a shelf. They come in a variety of power configurations – Ring Stick Up Cam Wired is powered through a 110-volt AC power supply (included), or powered through Ethernet, while Ring Stick Up Cam Battery uses a rechargeable battery.
Video capabilities
Stick Up Cams stream 150 x 85-degree wide-angle 1080p HD video, with night vision capabilities. You can easily set up and access multiple cameras through the app, so it's a simple task to blanket a home with video coverage. Alexa support lets you view footage using devices like the Echo Show with a simple voice command.
Two-way talk
Ring Stick Up Cams allow two-way conversations, but this can only be initiated by the viewer. Since the camera is designed primarily as a security device, that shouldn't be a surprise. Even with this limitation, this could be a useful tool in situations where it may be necessary to interact quickly with a caregiver on location.
Motion-sensing
Using the Ring app, you can set up specific zones to be monitored by the camera's motion sensor, and you'll automatically receive a notification if any motion is detected in these zones. This is a useful tool if you need to monitor specific locations or no-go zones.
Subscription plans
While the Ring app lets you access the camera at any time or set up motion-sensing zones that notify you of activity, to access recorded video footage you'll need to subscribe to the Ring Protect Plan, at $3 per month per camera, or subscribe to the Ring Protect Plus, at $10 per month, to access footage from an unlimited number of cameras.
Ring Stick Up Cams — Some potential scenarios
As we've noted, Ring Stick Up Cams were developed as security and monitoring devices, and the monitoring capabilities they provide are the most useful attributes they bring to the field of assistance to the disabled. Here are two scenarios that explore those possibilities.
Inside the home
If a family member with Down syndrome, Alzheimer's Disease, or dementia lives with you, you can place a camera in any location where you need to monitor activity. For example, a Stick Up Camera near a door could use its motion sensor to notify of activity if an individual with Alzheimer's Disease might start to wander. The automatic notification would provide you with an opportunity to intervene in a timely manner if you're in a different part of the home.
Outside the home
If you're employing caregivers to assist with a disabled family member when you're not at home, Ring Stick Up Cams can allow you to monitor activity in the home whenever you wish, to ensure that a reliable standard of care is being provided.
Ring Stick Up Cams pros and cons
Pros
Small size and multiple mounting options (hardware included)
Simple setup
Battery and wired options available
Easy to add extra cameras to the system
Easy access to any connected camera via the app
Offers remote monitoring
Simple, easy-to-use interface
Usually in-stock and available
Cons
Somewhat expensive, at $179 per camera
Extra cost to save and review video footage
Will not work if the power goes out (connects via WiFi or Ethernet cable and plugs into a wall outlet; there is an option to use Power Over Ethernet, but you still need home power for your modem to work)
Requires Internet, which may be an additional cost for some
Are Ring Stick Up Cams a good option for you?
If you need an extra level of monitoring, either for sensitive areas in the house when you're at home, or to check on loved ones and caregivers when you're away, Ring Stick Up Cams are worth exploring. Set up is easy, and the system can be easily expanded or reconfigured to meet different needs or changing requirements. With these cameras in place, you'll have an easy way to check in, in almost any situation, right from your phone or other devices.